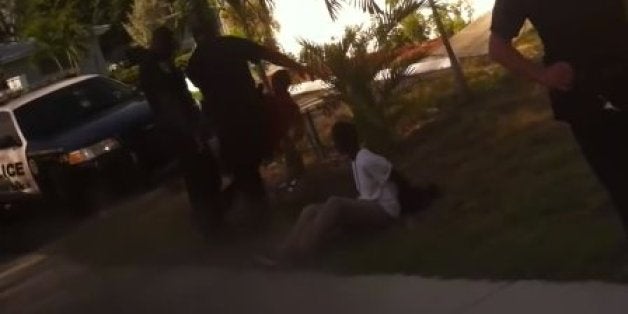 A South Florida police officer is under the gun after he was filmed allegedly kicking the legs out from under a handcuffed 13-year-old boy "for no reason," the child said.
"You can't treat a kid like that. [The officer] needs to be fired, you know," Rene LaGuerre, the boy's stepfather, told the AP. "The police have to serve, serve and protect."
Two cell phone videos of the incident, filmed by a fellow student on a school bus, made waves after being posted to YouTube. They capture the moments after 13-year-old Kevens Jean Baptiste was removed from the bus by police and placed in cuffs last Thursday morning. In the first video, an officer appears to grab Jean Baptiste around the neck.
In the second video, while Jean Baptiste is talking to one police officer, another walks up and appears to kick his legs out from under him, sending the boy toppling to the ground.
"They can't do that!" yells a child on the bus. "I recorded it!" yells another.
Jean Baptiste told WSVN the trouble started when, after someone sprayed perfume, he rolled down a window on the bus even though the bus driver told him not to.
"I said, 'I don't care. I got asthma,' and I was coughing, and my face was turning red and stuff," he told NBCMiami. "So, I just let down my window."
The driver then pulled over and called police, WSVN reports. The videos show two boys in police custody on the side of the road; in the second, the other boy is sitting on the ground as Jean Baptiste stands.
"They said don't speak when I was spoken to," Jean Baptiste explained. "The lady spoke to me and he said, 'Be quiet,' and I was talking and he slammed me, simple as that."
"We are committed to reviewing the situation in its entirety and taking whatever action is deemed most appropriate at the conclusion of our investigation," she added.