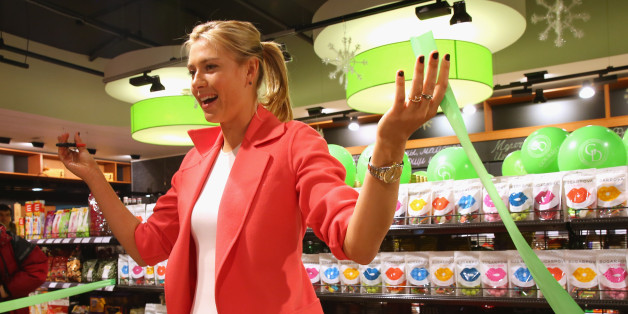 The famous names and faces that rule the entertainment world are jumping off smartphones and TV screens and into your grocery basket.
Chicago-based roasters Intelligentsia Coffee on Monday rolled out a special blend of beans made in collaboration with Annie Clark, the indie rock darling known as St. Vincent, according to the A.V. Club.
"I love Intelligentsia coffee. I have stood at their counter waiting for my order, like a fan waiting for a show. Eager. Expectant," Clark said in a statement via Intelligentsia to the coffee blog, Spruge. "So when my favorite coffee shop approached me about collaborating on a signature coffee, I was thrilled."
Much like fragrances in the late '90s and early aughts, signature food and drink items are the new must-have for everyone from musicians with cult followings to A-list athletes with international fame.
Historically, fragrances were popular branding opportunities for celebrities thanks to the high profit margins and the natural fit with the celebrity lifestyle, C. Samuel Craig, professor of marketing and international business at New York University, told HuffPost.
"Foods have become a much bigger part of people's lifestyle," Craig said, noting that unlike old school celebrity food brands -- think Jimmy Dean frozen sausages or Paul Newman's salad dressing -- the current crop of food and drink products are decidedly more upscale.
"On the food side, when you get into the premium space, there's only so far you can go on the strength of unique products or origin. [Celebrity tie-ins] are really an extension of branding of food -- you can only push a product so far. But, you can tap a celebrity and it taps into their Twitter account, their Facebook following. It can be great for viral promotion."
Even if a brand doesn't snag a celeb with the star wattage of say, Katy Perry, who has her own line of Popchips, it can still get a boost from a name that's famous-but-not-too-famous.
In 2013, Chicago-based brewery Goose Island collaborated with acclaimed rappers Killer Mike and El-P for the limited-edition "Run The Jewels" beer, named after their latest album and inspired by the taste of weed.
A spokeswoman for Goose Island told HuffPost no money changed hands for the collaboration, but that there was a "mutual publicity benefit."
"We got reach that we weren't expecting to get," the spokeswoman said. She described the rappers as being heavily involved in the creation process, earning credibility from a new audience -- beer geeks -- and giving the brewery exposure to the group's hip-hop fans.
Still, partnerships between stars and food brands aren't immune to spoilage; Craig notes it's always a liability when a celebrity becomes an integral part of a brand, like when Paula Deen lost a lucrative partnership with Smithfield Foods after a racism scandal last year.
"The danger is when a partnership doesn't work it, tarnishes the celebrity's brand -- and the danger goes both ways."
Check out celebs who've done their best to get in your pantries:
PHOTO GALLERY
Surprising Celebrity Food Partnerships