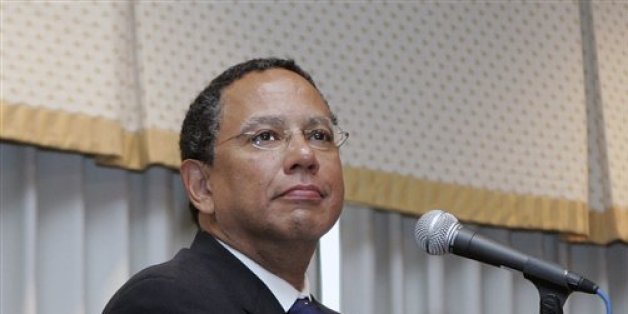 With the sudden departure of Jill Abramson as the top editor of the New York Times, America's paper of record will now be run by an African American, Dean Baquet, for the first time in its history.
Baquet, a former editor of the Los Angeles Times and a Pulitzer Prize-winning reporter, will succeed Abramson who has served as executive editor since 2011.
"It is an honor to be asked to lead the only newsroom in the country that is actually better than it was a generation ago, one that approaches the world with wonder and ambition every day," Baquet told his paper.
"There is no journalist in our newsroom or elsewhere better qualified to take on the responsibilities of executive editor at this time than Dean Baquet," publisher Arthur Sulzberger, Jr said.
Amid all of the speculation about Abramson, many celebrated the milestone:
Despite the shock of the news - welcoming the first black executive editor of the New York Times is a historic moment.

— ▵ Jenna Wortham ▵ (@jennydeluxe) May 14, 2014
162-year-old paper. This is a big deal. RT @aaronmedwards Dean Baquet just became the first black executive editor of The New York Times.

— Scott Bixby (@scottbix) May 14, 2014
Dean Baquet just became the first black editor of the New York Times. Wow. http://t.co/KUpeytRUrm

— Gene Demby (@GeeDee215) May 14, 2014
Dean Baquet will be the first black executive editor in the New York Times's history. Again, I say, hot diggity.

— Imani ABL (@AngryBlackLady) May 14, 2014
Abramson was the first female exec editor of NYT. Her replacement, Baquet, will be the first black exec editor there.

— Elahe Izadi (@ElaheIzadi) May 14, 2014
Flip side, NYT names first black executive editor: Dean Baquet. Pulitzer Prize-winner, fmr LAT editor http://t.co/gEmb8VKGh3

— Josh Smith (@joshjonsmith) May 14, 2014
as the initial shock of Abramson's departure subsides, we can focus on the real story: NYT has its first black editor

— Alexander C. Kaufman (@AlexCKaufman) May 14, 2014
In 2001, when Boyd became NYT's first black managing editor, he said this (a quote I've got hanging at my desk): pic.twitter.com/4gC5UVPiS2

— Wesley Lowery (@WesleyLowery) May 14, 2014
NYT's first black editor. HUGE RT @Nataliekitro: Dean Baquet speaks to the newsroom pic.twitter.com/s74WBaqAZ1

— Melvin Backman (@MelvinBackman) May 14, 2014