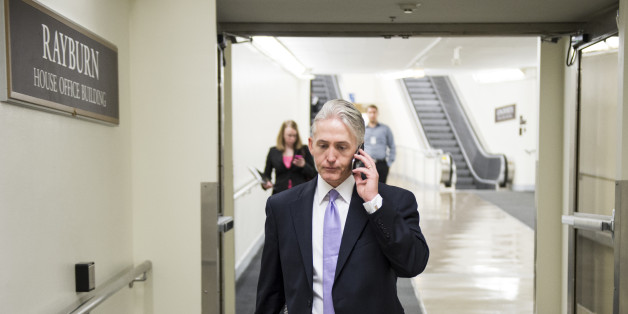 In a move that may undermine some of the Democratic Party's outrage over Republicans fundraising off of the newly-created Benghazi special investigative committee, a progressive advocacy group sent a fundraising appeal criticizing Republicans for doing so.
The liberal nonprofit People for the American Way sent a pitch to donors on Wednesday that arraigns the National Republican Congressional Committee for raising funds off the committee while also asking for donations.
"The House GOP's latest Benghazi investigation is nothing more than the exploitation of the death of four Americans for political gain," Michael Keegan, the organization's president, says in the email. "They're wasting taxpayer money to turn a tragedy into a phony scandal – all to rally their base and raise election funds."
"Only by mobilizing and turning out enough progressive votes will we be able to prevent these extremists from winning control of the U.S. Senate and taking even more power on Election Day," Keegan continues. "That means we need your renewal contribution right now."
Four Americans were killed during the Benghazi attacks in 2012, including U.S. ambassador to Libya, Christopher Stevens. Republicans have argued a select committee is needed to investigate how the State Department responded to the attacks.
Though the leader of the committee, Rep. Trey Gowdy (R-S.C.), asked Republicans not to attach fundraising appeals to the investigation's efforts, a number of campaigns and conservative groups did just that.
Democrats said the fundraising appeals amounted to Republicans capitalizing on a tragedy.
"Fundraising off the Benghazi tragedy is despicable and insulting and has no place in the national conversation," Democratic Congressional Campaign Committee Chairman Rep. Steve Israel (D-N.Y.) said in a statement last week.
A DCCC spokesman told Yahoo News Wednesday that it opposed using the Benghazi attacks as a method of fundraising.
"Doesn't matter what party, nobody should be using the Benghazi tragedy to raise money," the spokesman said.
Though an outside group like People for the American Way isn't easily equated with an official Democratic Party committee, a comment House Speaker John Boehner (R-Ohio) made on Monday now looks prescient:
"All I know is that we're trying to get to the truth here," Boehner said when asked what he thought of the NRCC's fundraising appeals. "And I've got to believe that the Democrats are probably fundraising off of Benghazi just like we are. Do you think when we had [Hurricane] Katrina, they weren't fundraising [off of that]?"
"I don't know what the fundraising arm is doing," he added. "All I know is that it's time to get to the truth."
BEFORE YOU GO
PHOTO GALLERY
Attack On U.S. Compound In Benghazi