Dry skin will always play a role in my life -- through eczema, allergic reactions and heat bumps, my body has encountered some tough, dehydrating times. So, as a new New Yorker, of course my face wanted to punch itself because of the harsh wind and cold temperatures I made it go through.
But, it wasn't until it started getting warmer outside that I noticed some things going on. I started breaking out more, which wasn't really a problem for me before, and random dry patches appeared in spots, like in between my eyebrows and on my cheeks. Also, there were a couple of times I had some flakiness on my forehead. Honestly, other than my few brushes with skin danger, my face always maintained some sort of composure -- so needless to say, I was pretty pissed about these newfound annoyances.
After taking out, exchanging and adding products to my regimen, it wasn't until I started using a facial oil that I understood what I really needed to kick these patches to the curb.
Here's what I do to make sure my skin is nice and hydrated all day long:
The key is putting the oil on at night. First, I wash or exfoliate my face, whatever my skin needs at the moment. Then, after adding some Beautycounter eye cream, I apply about two drops of the marula oil to the problem areas and rub the excess onto other parts of my face. I only need a little, because I have gone overboard and looked a little greasy before.
But, while I'm basking in this good skin glory, I'm also aware that this happiness won't last for long -- as this Drunk Elephant formula is $72, and that's $72 I don't have for every time I run out of this stuff. So for myself, and those of you who want to try some facial oil goodness, check out these alternatives.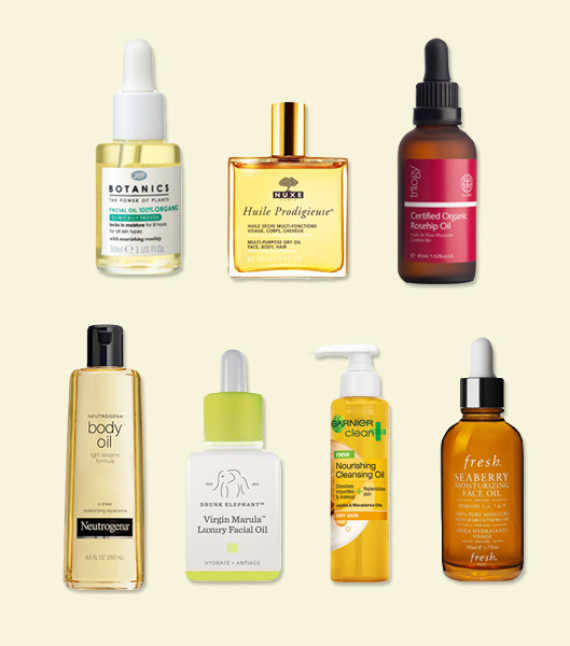 Product names and prices in the slideshow below.
But, if you don't want to put harmful fragrances on your face, and want to make your own mix, go for it. There are different types of essential oils that you can use to whip up your perfect formula -- almond, sesame, passionfruit seed and other oils could be the key to keeping your face glowing.
How do you combat dry skin?
PHOTO GALLERY
Facial Oils
*Drunk Elephant provided a sample of this product for review purposes.