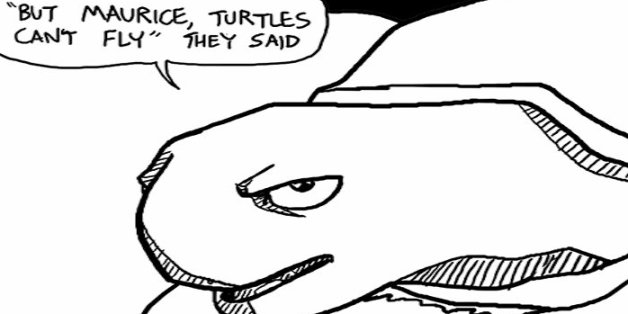 The great thing about GIFs is that they are short, sweet and straight to the laughs. But have you ever wondered why that man looks so confused, or why that dog is barking at that lettuce? (Of course you have.) Webcomic artist AC Stuart, also known as Noob the Loser, has taken to providing his own take on what's happening behind the scenes.
These comics fall into the genre of Behind The GIFs, which detail the unseen events that occur before some of the funniest GIFs across the Internet. One of Stuart's most popular mini-stories is one of a turtle named Maurice who dared to dream big before ultimately realizing even turtles have limits.
Stuart isn't the only artist who has added backstories to popular GIFs. In fact, he cited this Cheetos comic strip as being the first he encountered, the one that inspired him to create his own. "I can't remember what I saw after that, but I saw another and thought, good God, this is a really good prompt for comic ideas. So I started doing them, just by Googling 'funny GIFs' initially, but now I follow a lot of blogs that post gifs that I use," he told The Huffington Post.
Oh, and there is an entire community on Reddit called /r/BehindtheGIFs dedicated to creating the comical explanations for already amusing GIFs. But here are a few of our Noob the Loser favorites below.
All images shared from Noob the Loser using Embeddlr.