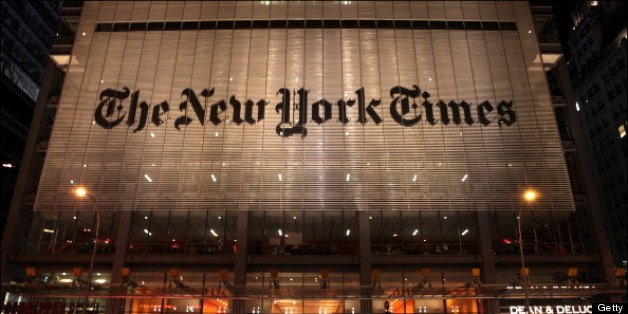 New York Times staffers were stunned by Wednesday's announcement that Jill Abramson is out as the newspaper's executive editor.
Publisher Arthur Sulzberger, Jr. delivered the news in a meeting Wednesday afternoon, telling staffers that Abramson will be replaced by Dean Baquet effective immediately. The newspaper's own report said that "reasons for the switch were not immediately clear," and employees expressed their surprise at the abrupt change on Twitter:
Stunned newsroom. pic.twitter.com/dooXpAHJoR

— David Gelles (@dgelles) May 14, 2014
Everyone gob-smacked in NYT newsroom over Jill Abramson leaving and Dean Baquet taking over

— Patricia Cohen (@PatcohenNYT) May 14, 2014
Whoa. Jill Abramson steps down at NYT, replaced by Dean Baquet."Reasons for switch not immediately clear." http://t.co/x51Nxak3g0

— Stephanie Clifford (@stephcliff) May 14, 2014
still wow

— Sydney Ember (@melbournecoal) May 14, 2014
The rest of the media world was just as shocked, with BuzzFeed's Ken Bensinger reporting that the New York Times' stock dropped 5 percent in the half hour after the announcement.
Words being used in WaPo newsroom right now: "Wow." "Whoa." "What???" http://t.co/SRvZbpIefk …

— J. Freedom du Lac (@jfdulac) May 14, 2014
wow - Jill Abramson Being Replaced as Top Editor at Times http://t.co/rZd7QoNxfE

— katharine weymouth (@weymouthk) May 14, 2014
Um? "The New York Times announced today that Dean Baquet has been named executive editor, effective immediately."

— Joe Pompeo (@joepompeo) May 14, 2014
Whoa. http://t.co/ErhCjl4TBT

— Ruth Graham (@publicroad) May 14, 2014
Whoa, Abramson out at NYT: http://t.co/tIo49DGyl1

— Matt Ford (@HemlockMartinis) May 14, 2014