 In some of the country's largest cities, public school closures have become a familiar occurrence -- a phenomenon some community groups have blasted as coming at the expense of minority students.
A new report from the Journey For Justice Alliance is airing those concerns, specifically calling out charter school advocates and so-called school reformers for proliferating widespread shutdowns which have disproportionately affected black and Latino children.
The grassroots education civil rights consortium has partnered with the Advancement Project to file three federal complaints with the Education Department's Office of Civil Rights, alleging that the impact of school shutdowns is racially discriminatory and thus violates Title VI of the Civil Rights Act. The complaints are also backed by the nation's two largest teachers' unions.
According to their report, New York, Detroit, and Chicago -- cities with large minority populations -- have in recent years each pulled the plug on more than 100 public schools despite mass demonstrations and community protests.
It's even more jaw-dropping in New Orleans. Since Hurricane Katrina, public schools in the city have essentially all been shut down and replaced with publicly funded, privately-run charter schools. The transformation has left nearly 4,000 children out of an education, the report claims, because when public schools close, many students fail to re-enroll into another school, leading them on a "path to failure."
Detroit -- where 98 percent of public school students are of color -- has shuttered 204 schools since 2000 and has lost a whopping 63 percent of its enrollment in the last seven years, while charter school enrollment is up 53 percent.
Outside of the charter school expansion, cities like Philadelphia have justified shutdowns by citing a lack of public funding and a need for increased austerity. But according to a Pew Research study, the money saved from closing schools has been relatively small and the sale of facilities has proven difficult.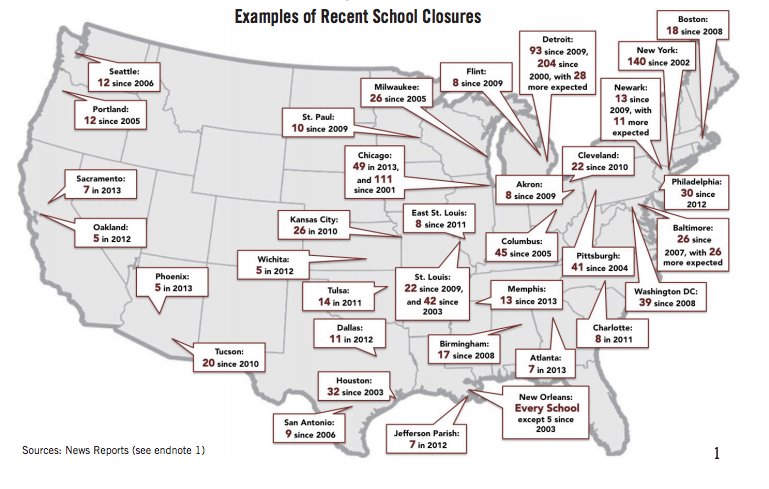 (courtesy Journey for Justice Alliance)
"School closures are happening in different places for different reasons," New York University Professor of Education Pedro Noguera told The Huffington Post. "In Philadelphia, there have been huge cuts; in New York, you have policies set in place by [former Mayor Michael] Bloomberg. To some degrees it varies, but ultimately the general impact is consistent: school closures are happening in poor communities of color... This report is calling attention to something that is most definitely happening. It's not an exaggeration."
The controversy over school closures was thrust into the national conversation last year when Chicago shut down 49 public schools, the largest single group of closures in history. The unprecedented move followed weeks of emotional public hearings and protests from teachers, students, and community organizers, all urging the Board of Education to keep schools open.
In Chicago, 40 percent of all public school students are black; the schools subjected to closing were 88 percent black.
"Let's not pretend that's not racist," Chicago Teachers Union President Karen Lewis said at a demonstration in April 2013.
Journey for Justice is calling for pushback on the rapid rise of charters. But proponents of such schools say they are taking the place of underperforming institutions in inner city neighborhoods in need of better-funded, innovative offerings.
Charter supporters point to number-driven data -- low classroom attendance and poor academic performance, among others -- for reasons the public school system is not working. While the jury is still out on the effectiveness of private charter schools versus public schools, across the country, charters have become the fastest-growing sector of public education.
"Unfortunately, too many kids in America have their destiny determined by a zip code, because too many kids have to walk into schools where they don't have a meaningful chance to succeed," charter supporter Rep. Luke Messer (R-Ind.) told VOXXI. "Charter schools are one of the ways that we can empower families and help them have the ability to pick the best option for their kids."
But in New Orleans, where the Washington Post reports those displaced by closings compete with other families for a chance to enroll at one of eight charter schools, not everyone agrees.
"It's ironic that those pushing school choice as school reform are taking away our choice," parent and activist Karran Harper Royal told the paper. "Most African American parents in New Orleans don't have the choice of neighborhood schools, unlike their white counterparts. If you're white, you have a better chance to attend a neighborhood school you can walk to. If you're black, you have very little chance."