Carpenter Gerald Kumpula bought an old crib to repurpose, but the project turned out to be very much more meaningful than he imagined.
The crib belonged to Valarie Watts, who sold it to Kumpula during her yard sale in Cokato, Minnesota. According to Fox9, she gave birth to a stillborn son, Noah, last July. His umbilical cord pinched in the womb, and he never came home to his already set-up nursery.
Watts wasn't entirely sure she wanted to let go of her son's crib, but after learning Kumpula upcycles furniture, she agreed to sell it. At the time of purchase, Kumpula didn't know about Watss' loss. His wife told him after they left.
"His wife was looking through my garage sale, and the baby clothes, and asked how old my son was," Watts told Fox9. "I told her he passed away last July."
Once he found out, Kumpula knew exactly what to do with the crib. "We decided on our way home this bench was going back," he said.
A week later, he returned the crib to the grieving mother. She cried on the spot. The carpenter had turned it into a bench to memorialize Noah.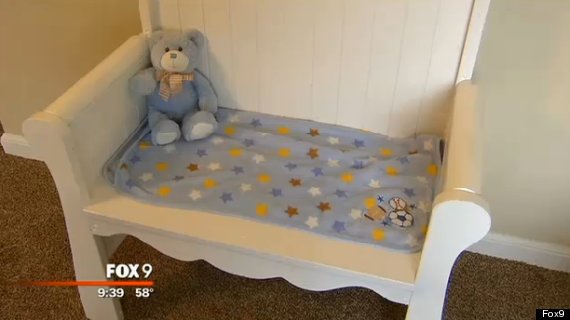 Amy Vickers, who volunteers for NICU Helping Hands, an organization that turns wedding dresses into "angel gowns" for moms who have lost their babies, knows firsthand how much a gesture like this means to a grieving parent. "It doesn't take the hurt away from them. But it just lets them know that we feel like their baby's life means something," she told WFAA back in March.
Over on The Stir, Maressa Brown offers another reason this gesture and the attention its getting could be helpful to others. "It's a reminder that other women in her shoes may be suffering far too silently and deserve support," she wrote.
Watts told the news outlet how amazing Kumpula's actions were. "There's good people out there," she said.
BEFORE YOU GO
PHOTO GALLERY
Random Acts Of Kindness