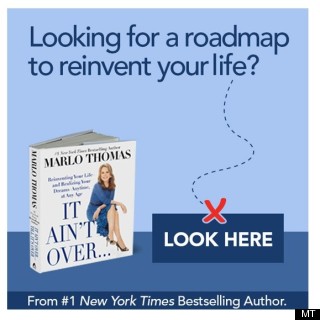 "One of the reasons I started my website is that I wanted a place for women to come together and dream. We women need to know that we don't have to hang on to an old dream that has stopped nurturing us—that there is always time to start a new dream. This week's story, an excerpt from my new book "It Ain't Over Till It's Over," is about Robina Oliver, a woman who, while on vacation in Puerto Vallarta, couldn't find a swimsuit to fit her full frame. So she decided to open her own store, one that was dedicated to providing plus-size women with swimsuits, while on the gorgeous beaches of Mexico.—Marlo, MarloThomas.com
"My butt looks huge!"
"My thighs are so jiggly!"
"My boobs need a lift!"
Every day, Robina Oliver listens to women put down their bodies as they stare into the mirrors of her swimsuit shop. "It's really difficult to hear," she says, "because that used to be me."
Rewind to 2003. A size-16 Robina was vacationing with her husband in Puerto Vallarta, Mexico, shopping for a new swimsuit. Each one she pulled off the rack was skimpier than the last. A string bikini? Get serious. A one-piece with cutouts on the sides? Like that's gonna hide love handles. A crocheted thong bottom? Not on your life.
"There wasn't anything even remotely appropriate to try on," she says. "It started to get really depressing. It made me feel so bad about myself—even worse than I normally did."
Robina had struggled with weight her whole life. "I've always been big," she says. Growing up in Connecticut, she had a tumultuous home life. Her parents divorced when she was two, her dad moved to the Cayman Islands when she was nine, and her mom remarried, had two sons, then divorced again when Robina was 15. So Robina sought comfort in eating. She'd binge on bologna, mayo, and white bread sandwiches, eating one, then another, then another. "It was a way to fill the void," she says. "Then, after food, I turned to other things."
Namely, men. "I was always looking for male approval and attention," she says. "If they liked me, that was enough, even if they were jerks. I was using them to escape."
By the time she was 19, Robina was working as a waitress and hostess in Austin, Texas, earning a reputation for herself as a sassy, loudmouthed party girl. "It was fun, but I was just drifting. I drank away my pain."
In 1989, Robina decided it was time for a change. She moved to San Francisco, where a year later she found work as a waitress at the city's hip Zuni Café. Six years after she landed the job, a new dishwasher arrived from Acapulco. His name was Carlos, and it wasn't long before he was smitten with Robina.
"He would follow me around like a puppy," she says, "begging in broken English, 'Give me a chance.'" Although she had sworn off men after moving to California, Robina says, "He wore me down." One date turned into moving in together after three months—and eventually into real love.
"He's very even-keeled, very calm," she says. "Again and again, he proved to me that he would always be there for me. I knew I could believe in him."
Most important, Carlos loved Robina for exactly who she was—full figure included. "It was definitely easier to accept myself because he accepted me," she says.
They married in 2001. Carlos was now a runner and busboy at another upscale restaurant, but after more than 20 years, Robina was burned out on the business—and the drug- and alcohol-fueled lifestyle that went along with it. "We were working late nights, going out afterward, and then crashing into bed at six in the morning. It was a blast, but you get older and you're like, 'Now what?'"
The answer came during that 2003 vacation to Puerto Vallarta. Sitting at the pool after her disastrous swimsuit shopping excursion, Robina couldn't get the negative self-talk out of her head: I'm so fat. I can't fit into anything.
Article Continues Below Slideshow
PHOTO GALLERY
Robina Oliver
But then she started to look around her. "It was all these middle-aged women, some bigger than me," she says. "Carlos was lying next to me, and I said, 'What if all these women want to buy a bathing suit? It can't be just me.' Then, it was literally like, 'Bing! You know what they need here? A plus-size bathing suit shop!'" And Robina knew that she was the one to open it. She and Carlos could sell their condo, she decided, and relocate to Puerto Vallarta year-round.
Carlos was skeptical. He'd moved from Mexico seeking opportunity in America, and he'd found it—"and now he envisioned us living in a shack, eating beans and rice." But Robina wouldn't let it die ("I'm really dogged when I get an idea"). She knew it would be the fresh start they needed. She told Carlos, "I need you to do this for me."
Eventually Carlos relented, but he made her promise that they would come back if things didn't work out. That was Robina's green light. With their savings, she began buying hundreds of bathing suits in sizes 12 through 40, storing them in boxes around their apartment. And she came up with a name for her store: Curvas Peligrosas, meaning "dangerous curves," a reference to both her imagined full-figured clientele and the mountainous roads leading into Puerto Vallarta.
It took three years before Robina and Carlos were able to sell their San Francisco condo, but finally in 2006, they took off for Mexico in a Chevy pickup with a camper top, pulling a five-by-eight-foot trailer filled with bathing suits. What they didn't have: a real business plan. "I'm impulsive. I just said, 'I think we can make this work. Let's do it.'"

Once in Puerto Vallerta, Robina and Carlos tackled their many to‑do lists, which started with finding a storefront (located not far from the very shop Robina visited on that first trip) that Carlos and a team of contractors remodeled. "They spackled, painted, fixed the ceiling, built dressing rooms, put in electrical and lighting," Robina says.
While preparing the store for its launch, Carlos's fluent Spanish proved invaluable, and Robina made it a point to brush up on her language skills as well, particularly swimsuit vocab: "Queda apretado" ("Does it fit tight?") or "Tenemos de todas las tallas" ("We have all sizes").
In 2007, Curvas Peligrosas opened to the public, and in its first six years more than doubled its sales. It did even better during the busiest winter months. But Robina wasn't focused on the dollars and cents—even today, she shortens the store hours during the quiet summer months so she and Carlos can actually enjoy living in a vacation destination.
"We didn't come here to become millionaires," she says. "We came here to live."
And it's a beautiful life. The home they share with their two dachshunds has views of the mountains and a banana tree in the backyard. Carlos now works as a general contractor, managing crews that do everything from installing tile to building furniture, a business he came up with while remodeling the shop.
And that shop has turned into the embodiment of Robina's new self-embracing attitude. "Now I'm the cheerleader, the positive one," Robina says. When she hears customers complaining about how they look, she says, "Stop! Would you say that to your friend? Then don't say it to yourself!"
What makes Robina happiest are the women who appreciate their reflection in her shop's mirrors. One in particular stands out: This 19-year-old girl was a size 30, so Robina pulled out suits up to a 40. "She was beside herself that I even had suits in her size," and when she came out of the fitting room, she had a huge smile on her face. "Oh my God," she said. "This has never happened before. This suit is too big on me!"
Recalling that story, Robina chokes up. "It was the coolest thing in the world," she says. "When I have days like that, it reaffirms that everything I am doing is good."
To read more inspiring stories, buy your copy of "It Ain't Over Till It's Over."
Click here.
Add Marlo On Facebook:
Follow Marlo on Twitter:
Sign up to receive my email newsletter each week - It will keep you up-to-date on upcoming articles, Mondays with Marlo guests, videos, and more!