Long before Psy made a certain district in Seoul famous, two ballers were representing: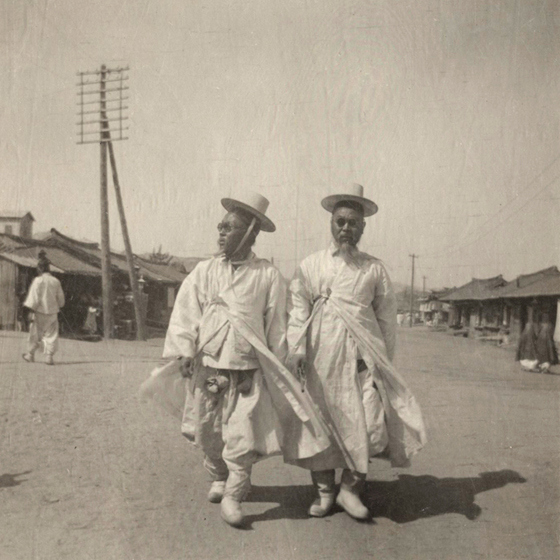 Drink in that Kimye monochrome and shades. The seemingly anachronistic image -- shot in 1904 -- has been doing the rounds thanks to a shout-out on the historical photo site Retronaut. Its subjects are "two middle-aged Korean gentlemen walking down the street," according to a caption in the Cornell University archives.
Their clothes are traditional, from their white overcoats, or eturumagie, to their ribbon tied epajie, or trousers. It's the details that kick things to the next level: hats made of horsehair, and those sunglasses, which, in true Gangnam style, reflect what the Cornell archive calls "a modern attire among the upper-class Korean gentry."
(FYI: This is a figurative comparison. The gentlemen were probably not perambulating inside the actual Gangnam area, which rose to riches only after the 1988 Seoul Olympics.)
It's not clear where the picture first appeared, but it somehow made its way into the collection of Willard D. Straight, an American banker who worked as a reporter in Asia in the early 1900s, before taking a post as secretary to the American consul general to Korea, and eventually donating his memorabilia to Cornell.
Today, it is the #tbt pic to end them all. Two O.G.s (Original Gangnam-stylists), pre-filtered.
CORRECTION: A previous version of this article mistakenly referred to Willard D. Straight's first name as William.

BEFORE YOU GO
PHOTO GALLERY
6 Psy Facts Worth Telling Everyone