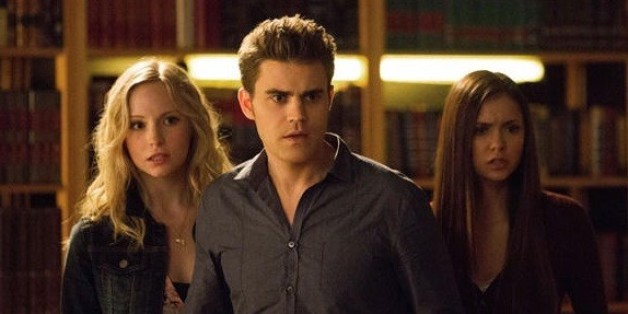 Today is a bittersweet day for "The Vampire Diaries" fans. On the one hand, viewers can expect an explosive episode when the season finale airs tonight, on the other, producer Caroline Dries has already warned us three major characters will meet their end before the screen fades to black. And Paul Wesley's Stefan might just be one of them.
We caught up with Wesley at The CW Upfronts earlier today and the handsome bloodsucker spilled some major secrets about what goes down in the town of Mystic Falls tonight and how he copes with filming one of most insane shows on TV. The last time we saw Wesley, he had gone over to the Other Side -- which is never a good thing -- but the question is, will he stay there?
"One of the lead characters is going to end up in a place that is really, not good," Wesley said. "I honestly don't know what the hell's gonna happen. I trust the show needs to do what it needs to do in order for the stakes to be high."
Uh oh. So, since tonight might very well be the last time Wesley wears a set of fangs, we asked him to share his favorite memory from filming this season and the actor revealed sitting in the director's chair made the cut.
"I really loved directing," Wesley said. "not just because I enjoy directing but I love the flashback scenes and the alternate reality of Stefan and Elena being non-vampires."
Speaking of the undead, Stefan has a pretty unhealthy relationship with his fellow vampire brother Damon -- they share the same taste in women, specifically one woman -- which is why Damon's reaction to Stefan's death last week had us all a bit choked up. Wesley reveals his bond is just as strong with co-star Ian Somerhalder and he loves to play their relationship out on-screen.
"That relationship is really interesting because it's like love and hate," Wesley said. "And I love love and hate. It's when you're apathetic that things start to get boring."
No one could accuse the hit CW show of being boring. We've seen the cast deal with doppelgangers, witches, uncontrolled bloodlust and monsters from beyond the grave. All of that weirdness has to take it's toll on the "TVD" team, so how does Wesley unwind after a long day? Hint: it involves a lot of alcohol.
"Drink whiskey," Wesley said.
We have a feeling we might need a glass after tonight's episode.
BEFORE YOU GO
PHOTO GALLERY
The CW's New Shows 2013-2014