A professor has asked the U.S. Department of Education to review whether the University of Oregon is violating laws governing sexual assault on campus, something at least one high-ranking administrator suggested to be the case in an internal memo.
Jennifer Freyd, a psychology professor at UO who was recently acknowledged by the White House for her research on college sexual assault, filed a complaint this week accusing her school of violating the Clery Act in its response to a March 9 report of a gang rape involving three basketball players.
UO students Dominic Artis, Damyean Dotson and Brandon Austin were accused in a police report (warning: graphic language) of gang-raping a student in the overnight hours of March 8 and 9. The university community did not learn of this incident until May, when the Eugene police released the report to The Oregonian. UO subsequently acknowledged that it first received a report about the alleged incident on March 9, a few days before the NCAA basketball tournament began. The school says it learned police were investigating Artis, Dotson and Austin on March 19.
On March 9, the reported victim's father notified the University of Oregon Police Department of the alleged gang rape. The university says it attempted to contact the survivor, but she did not return calls. The UOPD did not create a log of the report.
The Huffington Post made multiple inquiries as to why the March 9 report did not appear in the police log, but the UOPD did not provide any information. Kelly McIver, a public information officer with the UOPD, told Freyd in an email that the report was not there because the incident "did not generate a UOPD case number, which was because (a) it occurred outside of our Clery boundaries and out of our patrol jurisdiction, and (b) because the agency of jurisdiction did not request that we take a courtesy report."
On March 13, days after the school says it first learned of the alleged incident, Robin Holmes, UO vice president for student affairs, sent a memo to the university senate president noting that UO's student conduct policies regarding sexual violence were "out of step with federal laws." Holmes' memo suggested that the university was holding sexual assault cases to a prohibitively high standard of evidence, thus putting alleged victims at a disadvantage.
Holmes' memo does not directly reference the gang rape alleged to have happened a few days earlier. The document, obtained by The Huffington Post, only refers to a 2011 Dear Colleague letter stating that universities should use the preponderance of evidence standard when adjudicating a sexual assault case. The memo does not cite any more recent changes in federal guidelines for college sexual assault.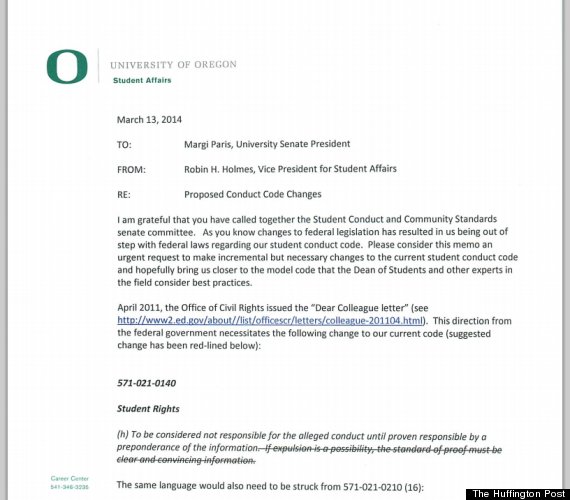 In response to an inquiry about Holmes' March 13 memo, and whether it was connected with the March 9 report of the alleged gang rape, the university cited UO President Michael R. Gottfredson's recent comments to faculty.
"Right now our campus is grappling with this issue," Gottfredson said this Wednesday. "An incident occurred that is incredibly complex and profoundly disturbing. It has angered many people, including me. And rightfully so -- it violates our very sense of who we are as a community of caring people."
Gottfredson said the school would conduct an external review of its policies on sexual violence.
Freyd believes the university violated the Clery Act, a campus security law, by not creating a police log when the alleged victim's family first reported the gang rape to the UOPD. She further believes, as stated in the complaint, that the school violated the law a second time by not issuing a campus-wide alert that they had received a sexual assault report, "particularly when [UO] learned a week later that one of the alleged perpetrators had a prior report of sexual assault at a prior college."
That student, Brandon Austin, was accused of sexually assaulting a woman with a teammate at Providence College in Rhode Island last year. He transferred to Oregon in January.
"For a possible sexual assault, once [UO] knew they had a situation where they had a report about somebody, it raises the possibility of [a] repeat offender very high," Freyd said in an interview. "That makes a clear need for a safety alert."
Freyd expressed doubt about whether the university had planned to say anything at all, given that the first acknowledgement of the case only came after The Oregonian got a copy of the Eugene police report.
"That's why I filed a Clery complaint," Freyd said. "Because it's scary. Students are not safe when they're behaving this way."
Lane County District Attorney Alex Gardner decided on April 14 not to file criminal charges against the players, saying it was not because he did or did not believe the reported victim, but because there was insufficient evidence to prosecute. In a lengthy statement released to the press, Gardner repeatedly questioned why the woman did not take action stop the alleged assault while it was happening.
The university previously said it did not withhold the basketball players from participating in March Madness because Eugene police worried that doing so would compromise the investigation.
The school announced this month that the three accused players have been suspended from the basketball team.
What do we want? A safe campus. When do we want it? NOW! pic.twitter.com/owzDupTdpZ

— UO Coalition (@UOCoalition) May 8, 2014
A group of students and faculty called the UO Coalition to End Sexual Violence is also asking the university to provide resources for Freyd to conduct a campus climate research survey, and to provide greater resources for victims of sexual violence. The UO Coalition plans to stage an on-campus rally Thursday.
Gottfredson has invited coalition members to meet with him to discuss these issues.
A campus crime compliance specialist at the Education Department confirmed that the department has received Freyd's complaint and is reviewing whether to investigate.
The federal government can fine a university up to $35,000 per Clery violation.
UPDATE, 11 p.m.: UOPD Public Information Officer Kelly McIver issued a statement regarding why there was no log made for the March 9 report and why no timely warning was issued to students:
When UOPD got the call from the relative, we could not take a report and investigate for two primary reasons: the victim herself was not reporting (she was also reported to be unwilling to report to law enforcement), and the incident was said to have occurred out of our jurisdiction.

The information about the victim, the relative, and the situation was immediately given to the UO sexual violence response staff for immediate reach out to the victim to provide services and support, and to help her ultimately report to the appropriate law enforcement agency if she chose to (which she did several days later). See a full timeline here: http://bit.ly/T0HHMm

Our department followed standard practice and regulations in not putting the item in the Clery Crime Log because it was outside our jurisdiction and Clery Act boundaries. No timely warning notice was issued because it was both outside the Clery boundaries, and to not interfere with the Eugene Police Department investigation.
Need help? In the U.S., visit the National Sexual Assault Online Hotline operated by RAINN. For more resources, visit the National Sexual Violence Resource Center's website.
BEFORE YOU GO