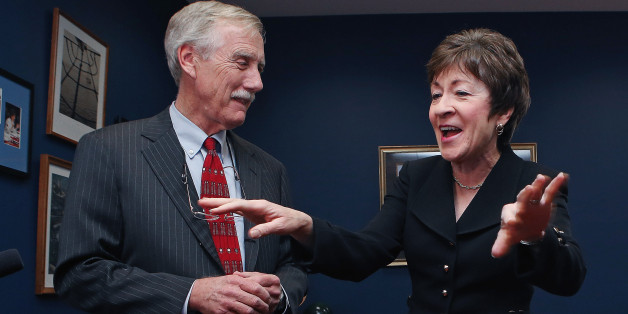 WASHINGTON -- Sen. Angus King (I-Maine) is crossing party lines and on Friday will endorse Sen. Susan Collins (R-Maine), as she takes on Democrat Shenna Bellows in her reelection bid.
"She always puts Maine and the country first and isn't afraid to cross party lines to get things done," King said in a statement to the Bangor Daily News. "I think she's one of the Senate's MVP's -- smart, tough and always willing to listen. In my book, she's a model senator and I'm delighted to support her re-election."
King is an independent, but he caucuses with Democrats. He and Collins were once political adversaries, when he defeated her in a four-person Maine gubernatorial race in 1994.
In the Senate, however, the two have occasionally worked together, such as on a deal to end the government shutdown and a student loan bill.
Collins is facing write-in candidate Erick Bennett in the June 10 primary.
Bellows told The Huffington Post that King called her last night to let her know he is endorsing Collins.
"He told me it wasn't personal, and in this case, I agree with him that the decision about who to endorse isn't personal. It's about much more than either Susan or myself. It's about the party that will be in control of the U.S. Senate and the future of our country," Bellows said.
Bellows admitted she still suffers from low name-recognition in the race, but she said she isn't discouraged and actually pointed to King's win in the 1994 gubernatorial race as a lesson.
"The Democrat in that race was a two-term governor, Joe Brennan, who had the distinction of being the only governor ever to win every county in the state. So the pundits in Maine thought that Joe Brennan would be governor," she said. "Angus King had a very similar name-recognition problem to the name-recognition problem I have today."
Bellows is the former executive director of Maine's American Civil Liberties Union and has run on a progressive platform, backing marijuana legalization, more environmental protections and an end to the National Security Agency's surveillance of Americans.
BEFORE YOU GO
PHOTO GALLERY
Women In The U.S. Senate