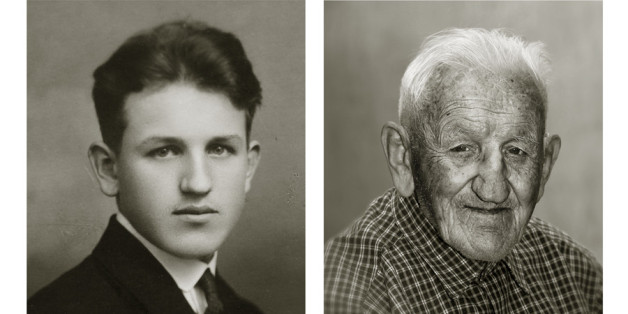 Have you ever wondered what you'll look like in 10, 15, or 20 years? Or have you ever been stunned to see photos of your parents or grandparents when they were younger? This week, even the hosts on the TODAY Show got a look into the future by using a new computer program that predicts what we'll look like in older age.
Aging affects all of us, but just because our appearance has changed, doesn't mean our identities have. That's exactly what Czech photographer Jan Langer wanted to capture with his collection, "Faces Of Century." Langer photographed nearly a dozen Czech centenarians and juxtaposed those images with older photos of the subjects in their younger years.
The changes that accompany aging are visible -- wrinkles, graying hair, and changing hairlines. But what's even more striking than the changes from the past are their hopes for the future. Langer asked each of the subjects to share a wish or two that they have. Their answers are heartwarming. "To visit Italy one more time," said Bedriska Kohlerova, 103. "To play the clarinet once again," said Antonin Kovar, 102. "Health and good mood for all," said Prokop Vejdelek 101.
Check out the stunning images in the GIF and video below:
BEFORE YOU GO
PHOTO GALLERY
Independent Woman's Anti-Aging Solutions -- How Far Would You Go?