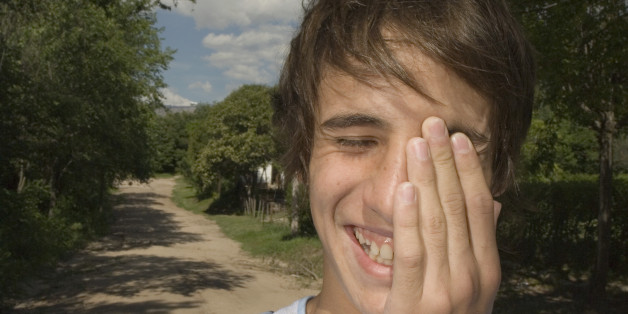 As far as life's embarrassing moments go, there are a million embarrassing moments between kids and their parents. Like that embarrassing moment when there's an unexpected, graphic, and unnecessarily drawn out sex scene during family movie night. Or when you accidentally send a text meant for your boyfriend/girlfriend to mom or dad (let's all pretend that never happened) or parents, when you unknowingly walk in on your child and their significant other doing something they definitely shouldn't be doing.
But more often than not, it's parents that are doing the embarrassing... because, well, that's just what parents do. They're older, less inhibited, and frankly don't care what you think. Sometimes it's to teach a lesson, sometimes it's to be funny, and well, unfortunately, sometimes it's inadvertent.
Last year Utah dad Scott Mackintosh taught daughters everywhere a memorable lesson: stop wearing short shorts. Mackintosh posed in a pair of his own to get his daughter to reconsider the length of her shorts. Lesson learned, dad. Loud and clear. Another goofy dad was caught on camera dancing very awkwardly at an electronic dance festival, while his son, clearly mortified, looked the other way.
Here are some other parents that take the trophy for being embarrassing beyond words:
Sun-Protection Mom...
Free Tote-Bag Dad (hopefully)...
Team Spirit Mom and Dad...
Matchmaker Mom...
My mom is so embarrassing. She made me take a picture with a waiter I have a crush on pic.twitter.com/2D8m2LcAQu

— sav (@tool_shedd) October 27, 2013
Double-Entendre Dad...
Omg. Dad is at his gf's steaming the wallpaper off her bathroom walls, and posted this..So embarrassing 😐🔫 ffs pic.twitter.com/Cq0R3r39ly

— Ailidh⭐ (@ailidhduguid) August 31, 2013
They-Think-They're-So-Funny Dads...
my dad is so embarrassing...... pic.twitter.com/hvUBlvnVYz

— Lindsey (@linnnndsss) March 22, 2013
One-Man-Makeout Dad...
My dad is that guy...#embarrassing 😯 pic.twitter.com/WbIbuRA7Wz

— Olivia Tallent (@oliviatallent) April 5, 2014
Worst-School-Pick-Up Dad...
You think your dad is embarrassing? My dad stood outside my school to pick me up with this.. pic.twitter.com/WspywGK3Oz

— hayden life (@roisinbean16) March 7, 2014
I'm-Not-With-Them Mom and Dad...
IF YOU THINK YOUR PARENTS ARE EMBARRASSING LOOK AT MINE pic.twitter.com/Rk4dWkrmSd

— jenny (@amenliam) August 31, 2013
Fashion Forward Dad...
Don't-Mess-With-This-Dad
Parents... gotta love 'em.
BEFORE YOU GO