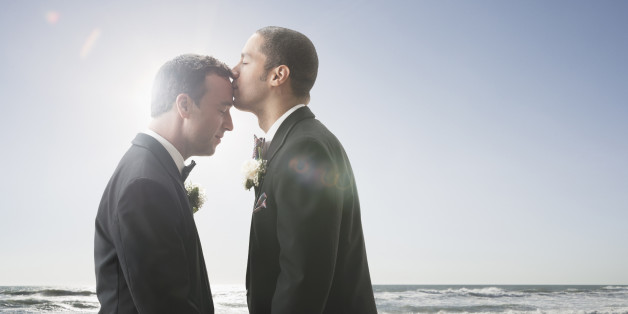 Back in November, Hawaii became the 15th state to legalize same-sex marriage. While the debate was surprisingly contentious for the solidly Democratic state, these past few months have been nothing short of a honeymoon period.
Since ceremonies began taking place on Dec. 2, nearly 1,500 same-sex marriages have occurred -- that means one in every seven marriages in the past five months has been a same-sex couple.
And the happy occasions show no sign of stopping.
After the initial rush of couples tying the knot in December and January, wedding planner Gigi Lee said she's now seeing couples who are taking their time and planning something big.
"They're making a huge event out of it," Lee told Hawaii News Now. "They're renting boats and having big theme parties -- it's a huge event so there are lots of different elements. They're going on helicopter rides, so aside from just the wedding itself, I think it's really impacting the tourism industry as well."
Hawaii has always been a popular locale for destination weddings -- more than 20,000 people are married in Hawaii every year -- and it seems that reputation is carrying over to the LGBT community. According to Hawaii's Department of Health, roughly half of the state's same-sex marriages have been non-residents, which is a similar breakdown for heterosexual marriages in Hawaii.
Early estimates of the impact of same-sex marriage in Hawaii predicted that more than 3,200 couples would marry in Hawaii within the first three years of legalization, resulting in an additional $217 million in visitor spending. With almost half that number already married in the first six months, it seems Hawaii has hit the wedding jackpot.
But it's not all about dollars and cents.
Retired Supreme Court Justice Steven Levinson, who has officiated many of Hawaii's same-sex ceremonies, told Hawaii News Now that most of the couples he's seen so far have waited a long time for the right to marry.
"My couples are averaging over 30 years together," he said. "The record is a couple going into their 48th year. They were 79 and 92 years old when I married them. They waited 48 years for the right to do it, so this is a very happy time."
BEFORE YOU GO
PHOTO GALLERY
Gay Marriage In The United States