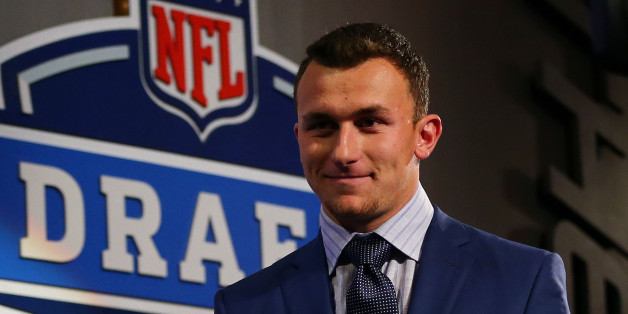 You don't earn a nickname like "Johnny Football" by giving up when a play breaks down.
With team after team passing on him during the first round of the 2014 NFL draft, Johnny Manziel did what he did best while playing quarterback at Texas A&M: He improvised. Cleveland quarterbacks coach Dowell Loggains said he got a text message from the Heisman Trophy winner on the night of the draft as the No. 22 selection approached.
"I wish you guys would come get me. Hurry up and draft me because I want to wreck this league together," Manziel texted, according to Loggains, who recounted his draft night experience during an appearance on "SportsTalk with Bo Mattingly" on ESPN Arkansas radio on Thursday.
CLICK HERE to listen to Loggains interview
According to Loggains, the text message finally convinced Browns owner Jimmy Haslam to bring Manziel to Cleveland.
"When I got that text, I forwarded it to the owner and to the head coach. I'm like, 'This guy wants to be here. He wants to be part of it.' As soon as that happened, Mr. Haslam said, 'Pull the trigger. We're trading up to go get this guy.'"
The Browns, who passed on Manziel with the No. 8 overall selection, ultimately traded the No. 26 pick and a third-round pick to the Philadelphia Eagles to get the No. 22 pick. With that selection, the Browns potentially set the rest of the league up to be wrecked.
Football fans and JFF supporters on Twitter turned Manziel's message into a #WreckThisLeague hashtag that was trending nationally on Friday.
PHOTO GALLERY
#WreckThisLeague
BEFORE YOU GO