Severe wildfires have torn through more than 10,000 acres of San Diego County for four days, forcing tens of thousands of residents to flee their homes. And the crippling drought that has plagued California for more than two years is only exacerbating the situation.
"The drought has set the stage for a very busy, very long, potentially very dangerous fire season," Daniel Berlant, a spokesperson for Cal Fire, told The Huffington Post. While the state's fire season usually peaks during summer and fall months, dry conditions have rendered wildfires a year-round issue. "With that lack of rain, the grass, brush and trees really have been tinder-dry all year long," he added.
The flames have already leveled at least a dozen homes and produced striking "firenados," a precarious phenomenon caused by strong winds whipping spirals of fire into the air.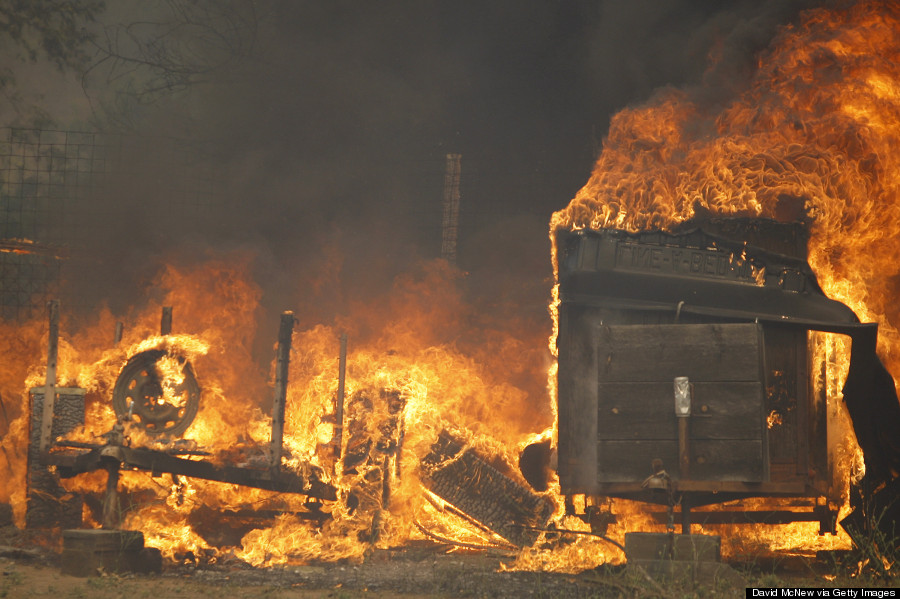 SAN MARCOS, CA - MAY 15: Ranch equipment burns at the Cocos fire on May 15, 2014 in San Marcos, California. Fire agencies throughout the state are scrambling to prepare for what is expected to be a dangerous year of wildfires in this third year of extreme drought in California. (Photo by David McNew/Getty Images)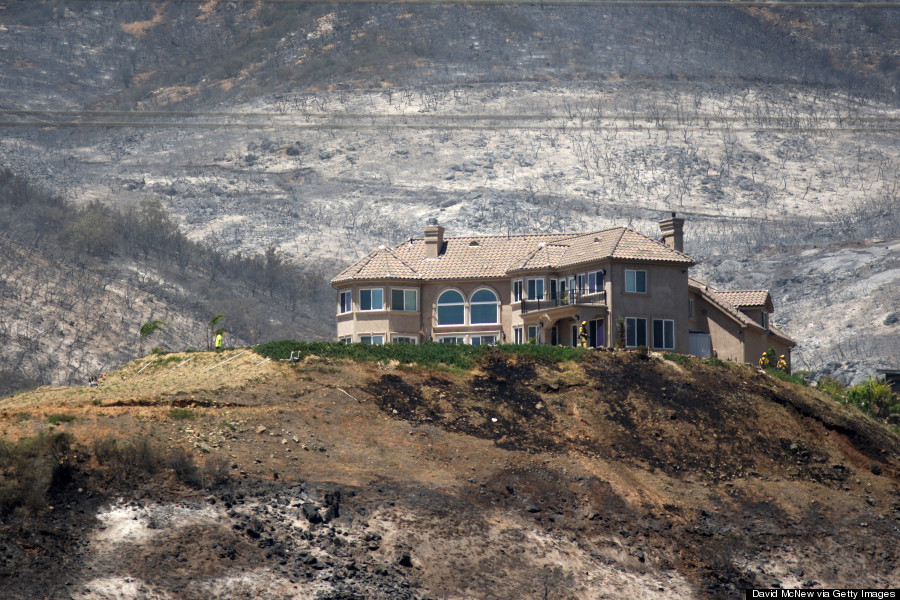 SAN MARCOS, CA - MAY 16: Scorched hills surround firefighters and a hilltop house after it saved from the Cocos fire on May 16, 2014 in San Marcos, California. The fire continues to threaten communities with little containment three days after nine wildfires broke out in a single day in San Diego County. (Photo by David McNew/Getty Images)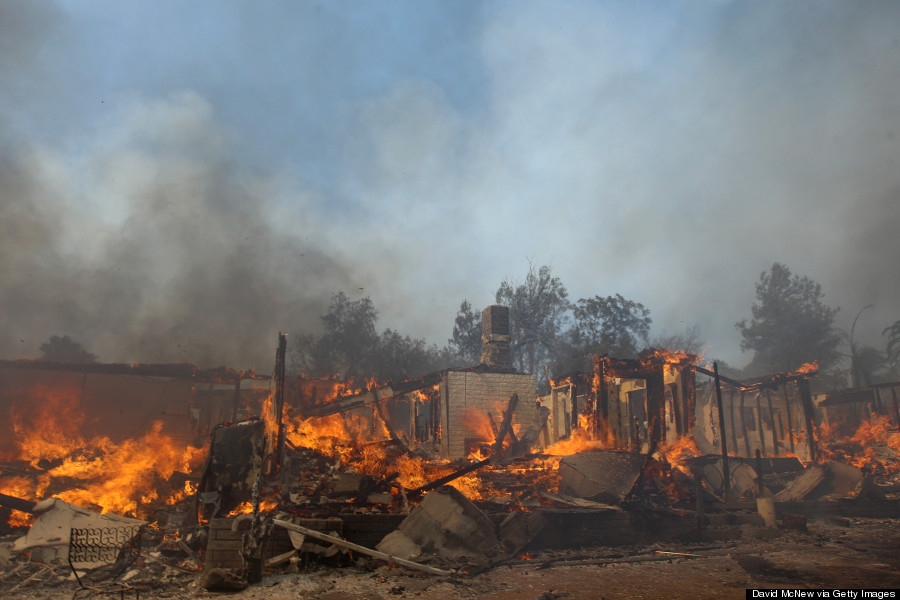 SAN MARCOS, CA - MAY 15: A house burns at the Cocos fire on May 15, 2014 in San Marcos, California. Fire agencies throughout the state are scrambling to prepare for what is expected to be a dangerous year of wildfires in this third year of extreme drought in California. (Photo by David McNew/Getty Images)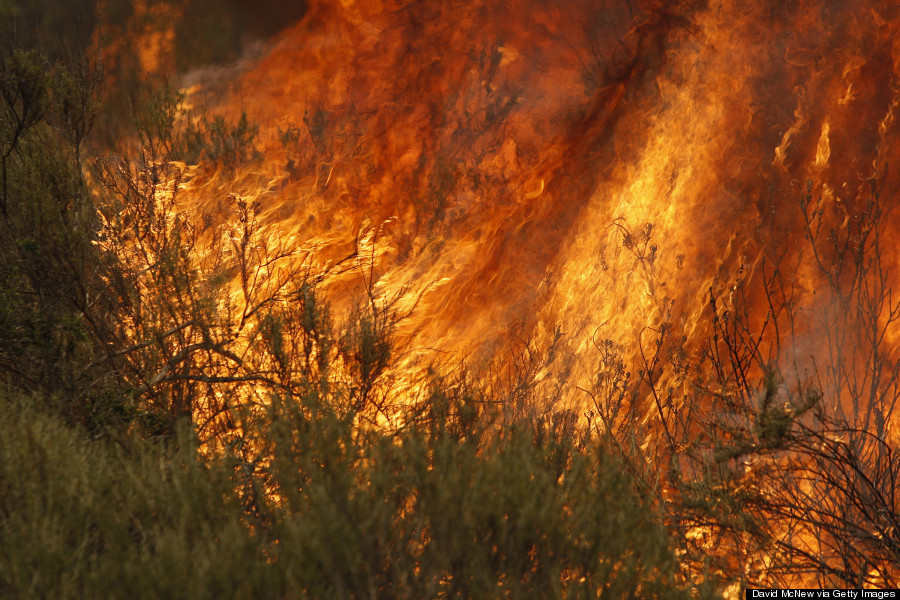 SAN MARCOS, CA - MAY 15: Flames spread at the Cocos fire on May 15, 2014 in San Marcos, California. Fire agencies throughout the state are scrambling to prepare for what is expected to be a dangerous year of wildfires in this third year of extreme drought in California. (Photo by David McNew/Getty Images)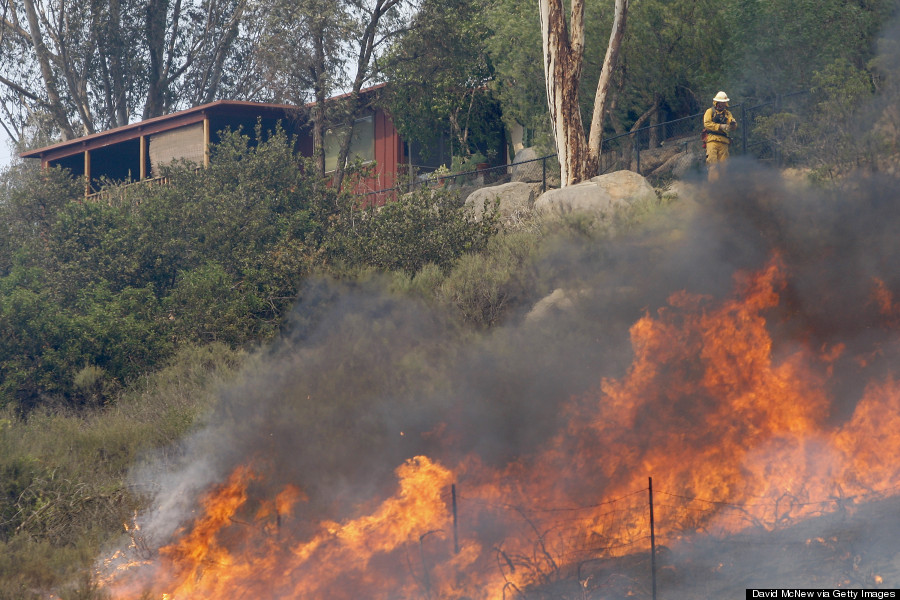 SAN MARCOS, CA - MAY 15: Flames spread toward a house at the Cocos fire on May 15, 2014 in San Marcos, California. Fire agencies throughout the state are scrambling to prepare for what is expected to be a dangerous year of wildfires in this third year of extreme drought in California. (Photo by David McNew/Getty Images)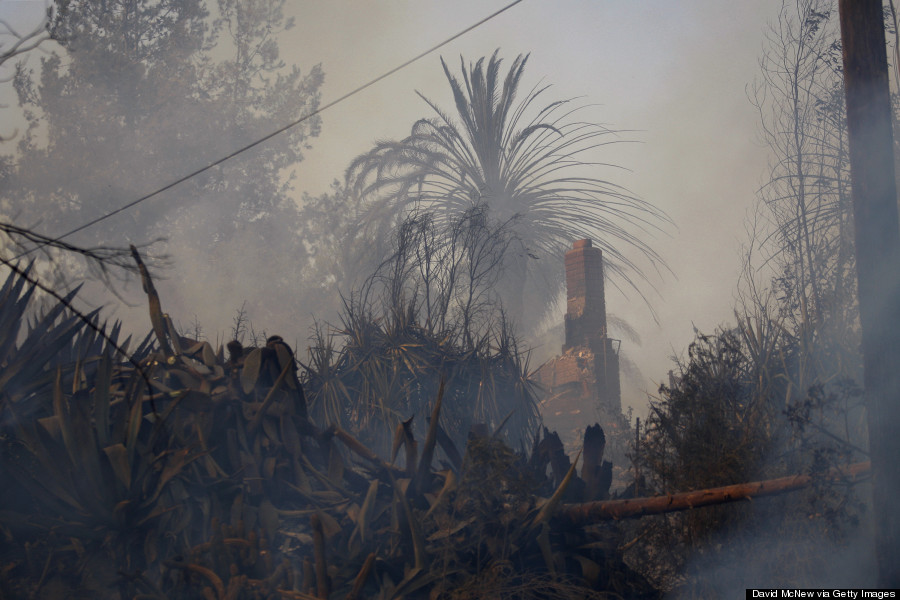 SAN MARCOS, CA - MAY 15: A home is left as smoldering ruins by the Cocos fire on May 15, 2014 in San Marcos, California. Fire agencies throughout the state are scrambling to prepare for what is expected to be a dangerous year of wildfires in this third year of extreme drought in California. (Photo by David McNew/Getty Images)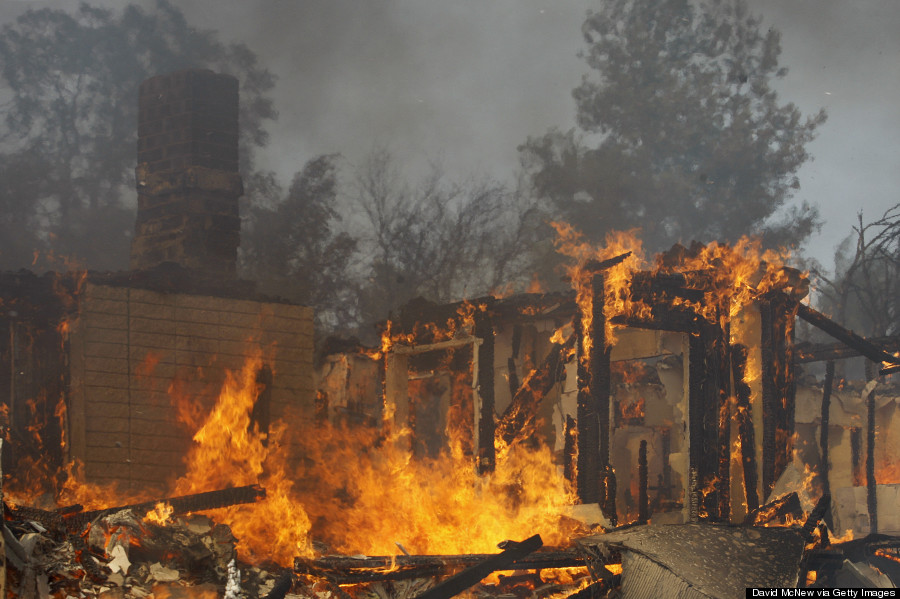 SAN MARCOS, CA - MAY 15: A house burns at the Cocos fire on May 15, 2014 in San Marcos, California. Fire agencies throughout the state are scrambling to prepare for what is expected to be a dangerous year of wildfires in this third year of extreme drought in California. (Photo by David McNew/Getty Images) Houses sit untouched above a canyon ravaged by wildfire Friday, May 16, 2014, in Carlsbad, Calif. Some evacuation orders were lifted early Friday in an area near the fiercest of several wildfires in San Diego County, as crews building containment lines around the blazes hoped cooler temperatures will help them make further progress. (AP Photo/Gregory Bull)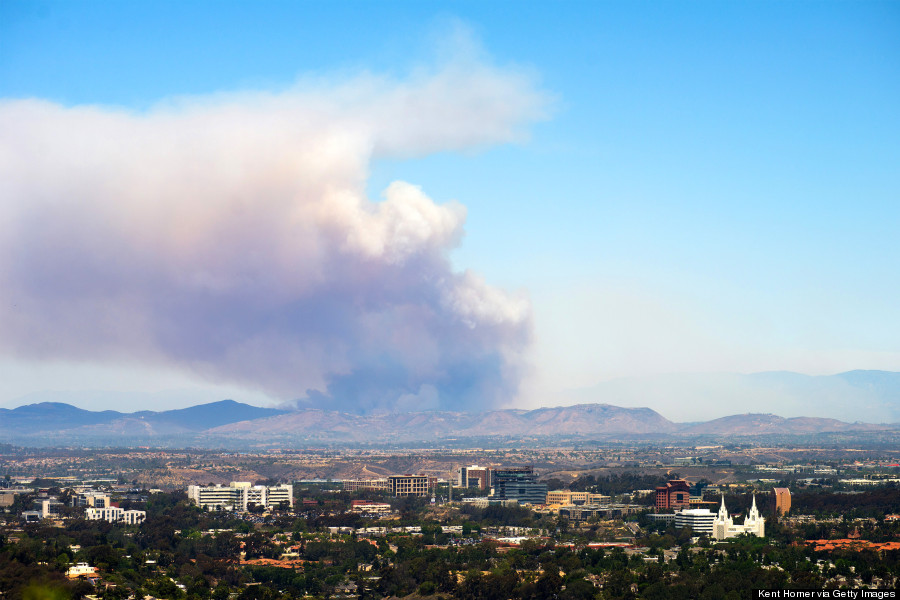 SAN DIEGO, CA - MAY 15: A huge plume of smoke from the Cocos San Marcos fire, seen from atop Mount Soledad in La Jolla, is blown in a westerly direction by off-shore Santa Ana winds and high temperatures on May 15, 2014 in San Diego, California. As of 4 P.M. an estimated 1,400 acres had burned with numerous buildings destroyed. (Photo by Kent C. Horner/Getty Images)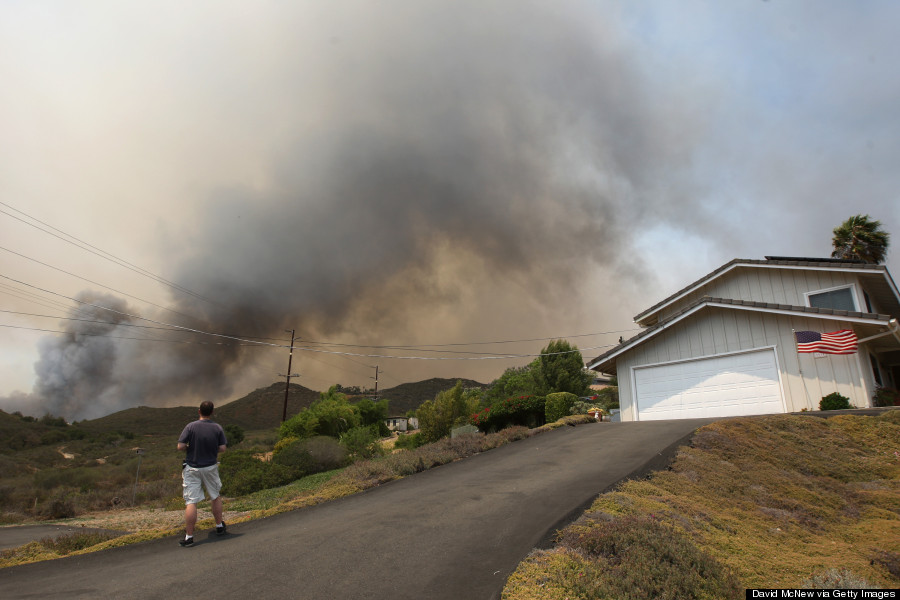 SAN MARCOS, CA - MAY 15: A resident watches a column of smoke as the southeast flank of the Cocos fire bears down on houses near Del Dios Highway on May 15, 2014 near San Marcos, California. Fire agencies throughout the state are scrambling to prepare for what is expected to be a dangerous year of wildfires in this third year of extreme drought in California. (Photo by David McNew/Getty Images)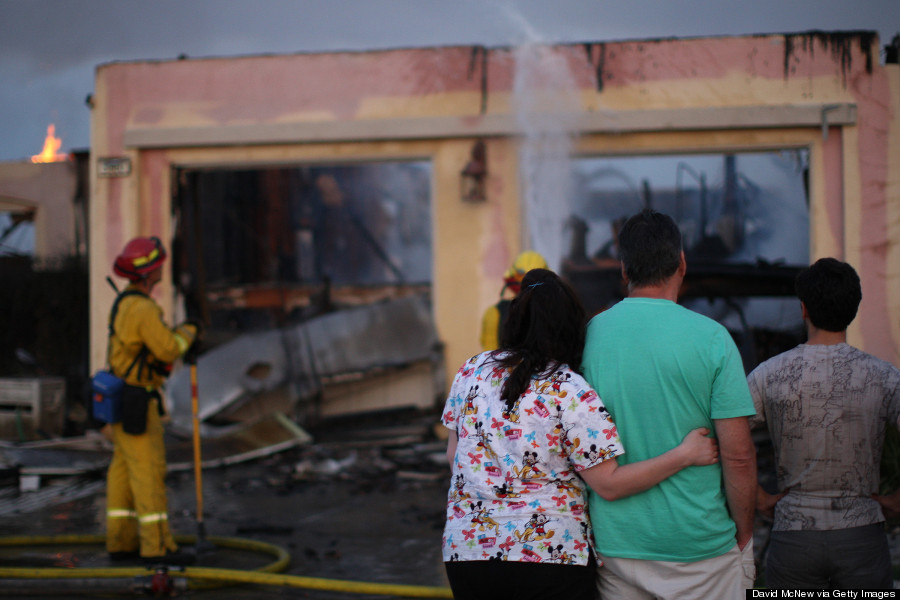 CARLSBAD, CA - MAY 14: Residents looks at the burning remains of their home that was destroyed in the Poinsettia fire, one of nine wildfires fueled by wind and record temperatures that erupted in San Diego County throughout the day, on May 14, 2014 in Carlsbad, California. Fire agencies throughout the state are scrambling to prepare for what is expected to be a dangerous year of wildfires in this third year of extreme drought in California. The Poinsettia fire has destroyed at least eight homes and severely damaged eight condos and two businesses. (Photo by David McNew/Getty Images)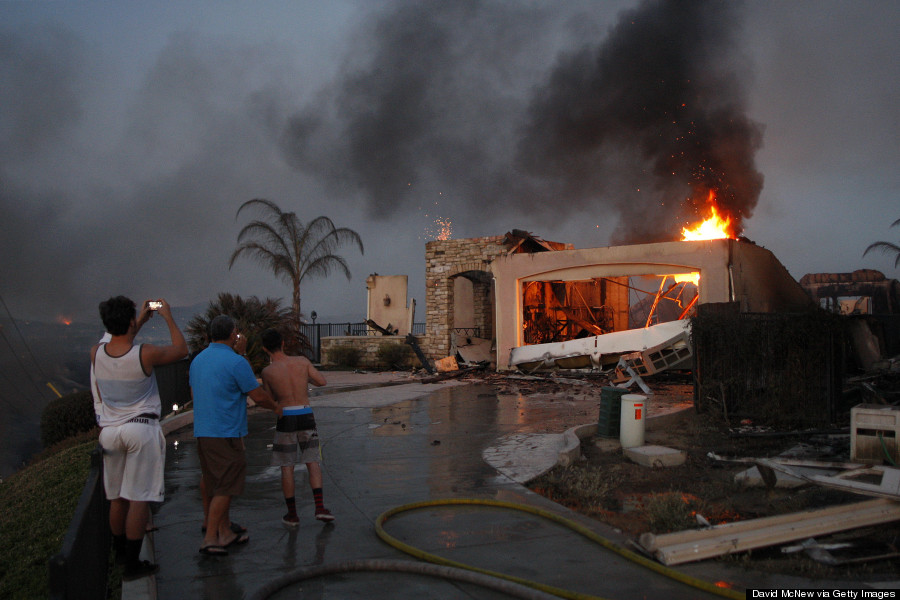 CARLSBAD, CA - MAY 14: Residents photograph the burning ruins of their home that was destroyed in the Poinsettia fire, one of nine wildfires fueled by wind and record temperatures that erupted in San Diego County throughout the day, on May 14, 2014 in Carlsbad, California. Fire agencies throughout the state are scrambling to prepare for what is expected to be a dangerous year of wildfires in this third year of extreme drought in California. The Poinsettia fire has destroyed at least eight homes and severely damaged eight condos and two businesses. (Photo by David McNew/Getty Images) Jack Whitlang looks out as he stands in front of his aunt's home, which burned to the foundation, during a wildfire Thursday, May 15, 2014, in Escondido, Calif. One of the nine fires burning in San Diego County suddenly flared Thursday afternoon and burned close to homes, trigging thousands of new evacuation orders.(AP Photo/Gregory Bull)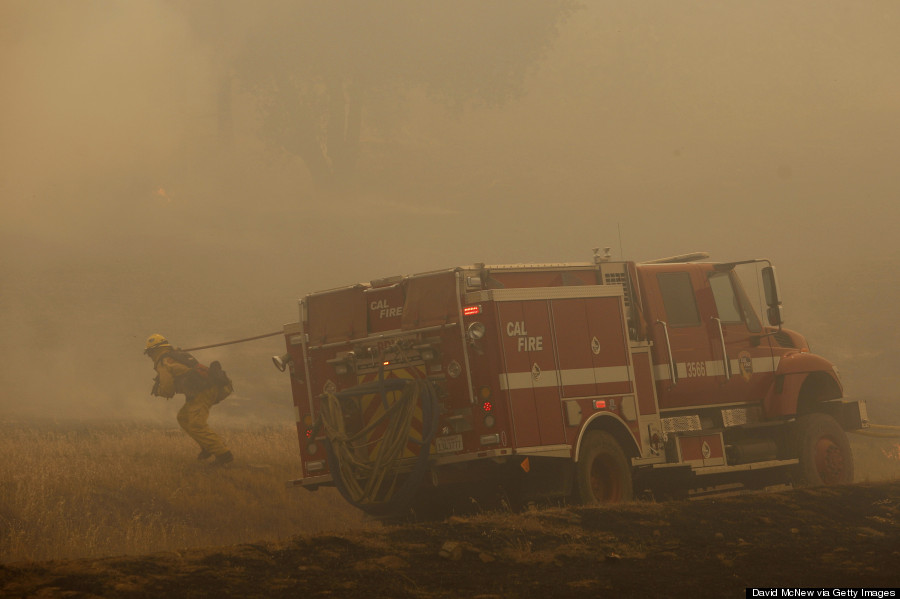 SAN MARCOS, CA - MAY 15: A firefighter pulls a hose into position to battle the Cocos fire on May 15, 2014 in San Marcos, California. Fire agencies throughout the state are scrambling to prepare for what is expected to be a dangerous year of wildfires in this third year of extreme drought in California. (Photo by David McNew/Getty Images) A large home is engulfed in smoke as flames approach Thursday, May 15, 2014, in San Marcos, Calif. One of the nine fires burning in San Diego County suddenly flared Thursday afternoon and burned close to homes, trigging thousands of new evacuation orders. (AP Photo)