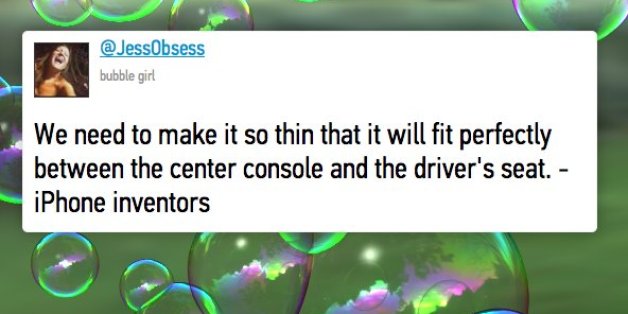 From Beyoncé's family feud elevator edition to the ousting of New York Times' editor Jill Abramson, this week has been filled with drama. Evidently, Andi Zeisler was not happy with Abramson's sudden dismissal based on her tweet, "Lean In, But, You Know, Nicely." Apparently, leaning in comes with a few guidelines.
Jess Mack summed up the week rather well when she tweeted, "Hillary, Solange, & Jill Abramson: The new Destiny's Child." We would definitely buy tickets to that concert.
For more great tweets from women, scroll through the list below. Then visit our Funniest Tweets From Women page for our past collections.
Hormones are why I can't have nice things.

— Samtastic (@SufficientCharm) May 11, 2014
I even dream about naps

— Hyper Harper (@Harpers_Halo) May 11, 2014
Just saw someone eat only half a Snickers bar and put the rest away so clearly she's a witch.

— shauna (@goldengateblond) May 13, 2014
It was just sex until he won the powerball.

Now it's love.

— Ann (@writerPT) May 13, 2014
We need to make it so thin that it will fit perfectly between the center console and the driver's seat. -iPhone inventors

— bubble girl (@JessObsess) May 11, 2014
Also just know that if you are a bald man in a suit and sunglasses, I will always want to ask if you are Pitbull. Always.

— Ella Cerón (@ellaceron) May 14, 2014
you know you have a true friend when she wants to bail on the plans you made together exactly as much as you do

— christine teigen (@chrissyteigen) May 13, 2014
"Ugh, you're so obsessed with me."

Boss: "I just asked why you're twenty minutes late?"

— Stacey Lynne (@NervousJr) May 15, 2014
Hillary, Solange, & Jill Abramson: The new Destiny's Child.

— Jess Mack (@fleetwoodjmack) May 14, 2014
The Iggy Azalea Pandora station just played a Frozen song so I think we're done here

— DWB (@dwbronner) May 13, 2014
Sorry, I already made plans with the internet.

— Raspberry Jam (@Jenny4ashley) May 14, 2014
Lean In, But, You Know, Nicely.

— Andi Zeisler (@andizeisler) May 14, 2014
Coffee is the oxygen mask I strap on myself before assisting others.

— JeannerBeaner (@Goggner) May 16, 2014
Welcome everyone. Just relax get comfy, OK great. Now, before we get started, has anyone here ever been to hell before? Anyone?

— Smug Lemur (@Smug_Lemur) May 16, 2014
It's like that guy who blew me off tonight doesn't even realize I got like 12 hearts on my latest IG selfie.

— Shelly (@ForEllieSylvia) May 16, 2014
Multiple orgasms and bacon pizza both make my soul sing..

— Jennifer Two-times (@Jen_Two_time) May 14, 2014
The horrible realization that without alcohol or having gone to a party, you'll still want a grilled cheese sandwich at 12:35 AM.

— Elizabeth Hackett (@LizHackett) May 16, 2014
You're like the 'Shark Week' of people.

I can't stop watching you, but secretly hope you'll be eaten.

— The Sicilian (@MafiaJoker78) May 16, 2014
Based on how often I skip songs, one would think I didn't personally choose to upload these songs.

— CatherineLMK (@CatherineLMK) May 16, 2014
Cheese knows that you did your best.

— Stacey Lynne (@NervousJr) May 13, 2014
How do you know when your car is done parking, it's when it's inside of the wall right

— audrey farnsworth (@audipenny) May 15, 2014
"no please. you take this empty train seat. you look so tired and you probably need it more than i do" i say to YOUR FUCKING PURSE

— tara shoe (@tarashoe) May 14, 2014
You've been served. *hands you paper with NOT COOL written in bubble letters*

— Lady (@ladybroseph) May 12, 2014