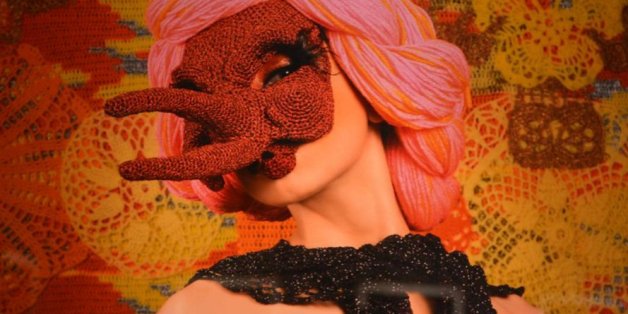 It's a good day when we catch word of an exhibition honoring a female street artist, a rare and sadly under-exposed breed. It's an even more glorious day when that exhibition features two. Yes, two street art legends, Miss Van and Olek, are teaming up for a joint exhibition that's essentially a street art version of a feminist masquerade.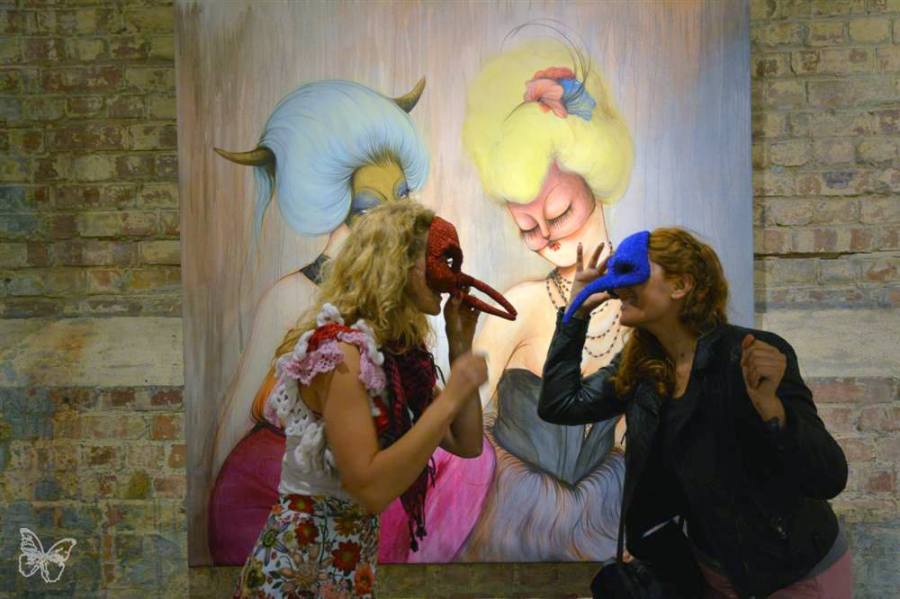 Olek and Miss Van
"I wanted to pay homage to an artist, woman and friend who is also my contemporary," Olek explained to The Huffington Post. "We want to help each other. In this world of men it's important to stick together and support each other to make a bigger impact in the art world." The two creative forces reveal how artistic collaboration, coupled with genuine friendship and respect, yields electric results.
Miss Van's segment of the show, titled "Glamorous Darkness," features the street icon's signature burlesque beauties all dolled up -- bling-ed out in disguises, fabulous accessories and not much clothing. The French-born, Barcelona-based street artist is known for her contemporary Baroque visions, blending art history-sanctioned feminine softness with eerie animal masks, unapologetic sexuality and other "un-ladylike" details. Her "Eyes Wide Shut"-esque scenarios are as classy as they are foreboding; her subjects' pursed lips hide a mean bite.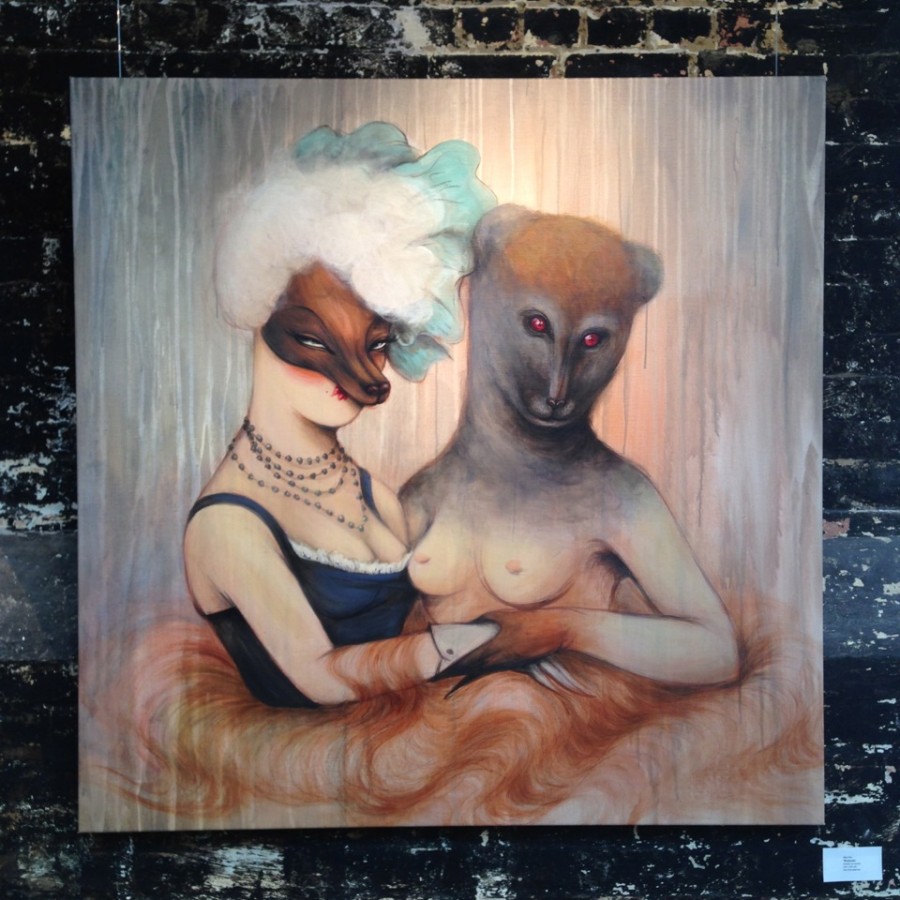 Miss Van
Van's hypnotic paintings are paired with photographs by Olek, the Polish-born, Brooklyn-based crochet vigilante who's known for her ever-growing knitting compulsion. For her portion of the show, Olek crafted three-dimensional interpretations of Van's canvases, providing her favorite works in the show with crocheted companions. "I like to experience something coherent in the gallery space," she said. "For this show we used masks to hold everything together. And strong female models, which I always have in my work."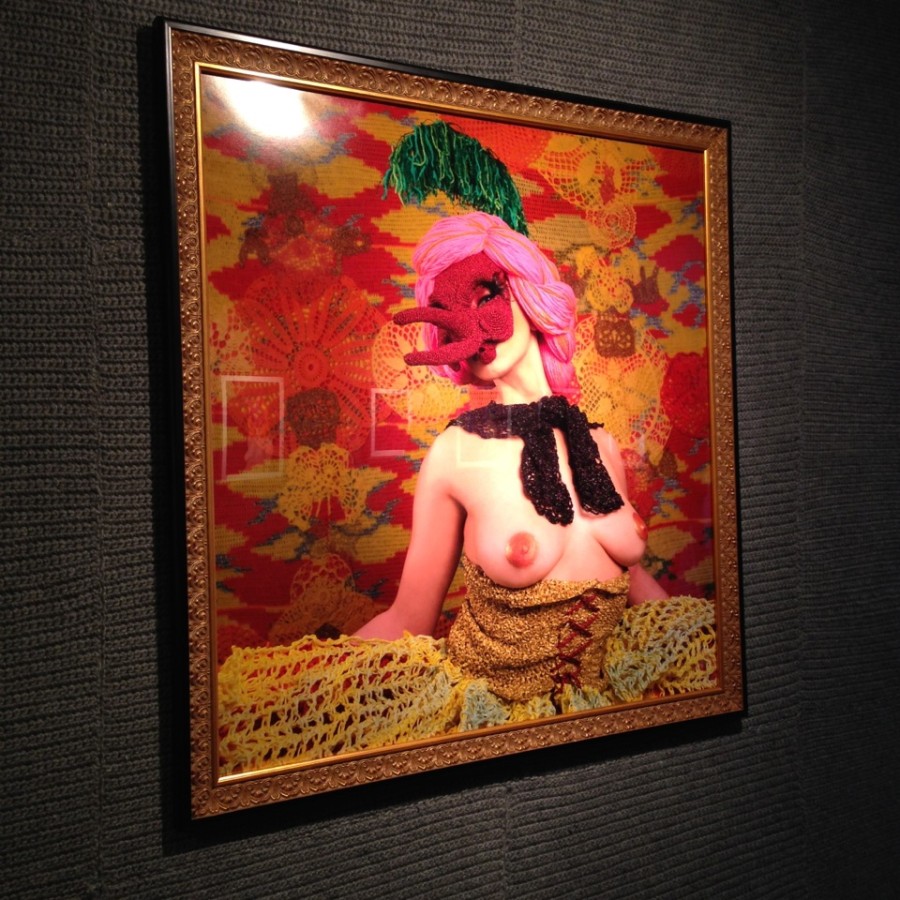 Olek
Olek crocheted masks, hair, backdrops and even the gallery walls, draping the materials onto models and photographing the results. When asked about the show's obsession with masks, Olek replied: "I have been working with masks for a long time. When you put a mask on you become a different character, you change -- your voice, your movement, your gestures -- you become somebody new. I don't know if the mask is really hiding something or revealing something; that's one of the things I'm experimenting with."
Together the artistic vision is a delicious combination of two creative perspectives, not quite combined but certainly nestled comfortably close. Olek's portion of the show, titled "Let's not get caught, let's keep going," references "Thelma and Louise," a nod to her relationship with Van. "There was an instant love, in a way," she explained. "Vanessa and I are two girls who are running, running, running."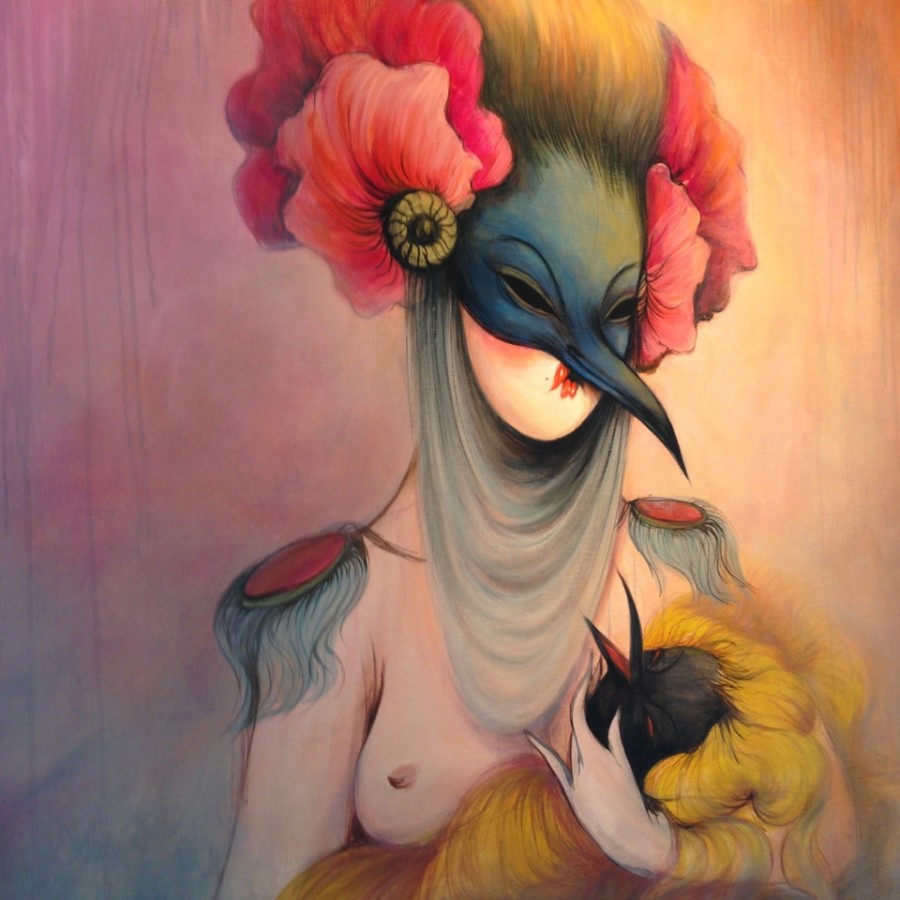 Miss Van
"It's hard to be an artist, hard to be a woman," Olek said Put them together and it's almost impossible." Although Miss Van and Olek met at a gallery three years ago, the two became close with many key female players in the street art scene at the "Women on the Walls" exhibition in Miami's Wynwood District last year.
"We are all very hardworking women. Everything we do, we have to work harder. We work harder than all those guys put together. When Maya Hayuk painted the Bowery Wall in January, she killed it. No men wanted to do it -- again, it was January -- and she just said 'fuck it.'" Though the task at hand seems impossibly tough, the spirit of collaboration reigns over that of competition. "We realize there is no competition. We are all working in different mediums and doing different things and the only way we can grow is if we're helping each other. We don't have to fight over public space, it's endless."
To all the women street artists of the world, let these two icons show you how it's done. There will be lots of hard work ahead, but the company can't be beat. "Glamorous Darkness" and "Let's not get caught, let's keep going" run until June 1, 2014 at StolenSpace Gallery in London. If you can't make it to the UK, check out a preview below.
BEFORE YOU GO
PHOTO GALLERY
Lisa Yuskavage