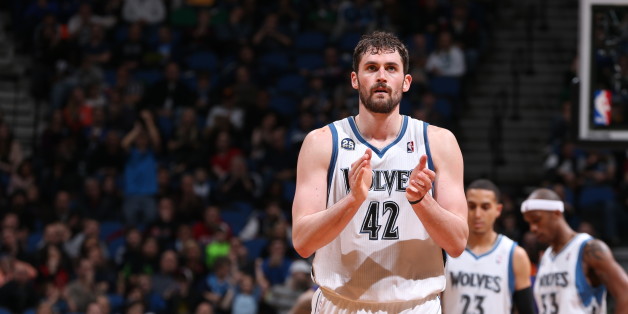 Kevin Love has reportedly made up his mind and plans on leaving the Minnesota Timberwolves as soon as possible. The New York Daily News and ESPN.com reported on Sunday that Love has no desire to sign a long-term contract to stay in Minnesota and plans on leaving, whether via trade next season or free agency in the summer of 2015.
According to Adrian Wojnarowski of Yahoo! Sports, league sources said the three-time All-Star is "anxious to exercise his Early Termination Option" after the 2014-15 season and become a free agent. In January of 2012, Love signed a four-year, $62 million contract extension. But the deal included an opt-out clause after the third year.
Let the rumors start swirling.
Citing unnamed sources, Marc Stein and Ramona Shelburne of ESPN.com reported that the star forward wants to be dealt to a team in immediate contention like the Golden State Warriors or Chicago Bulls. Wojnarowski reported that league sources said the Lakers, Warriors, Boston Celtics and Phoenix Suns are among many teams to try to acquire Love.
Will the Timberwolves, who are also searching for a new coach, deal Love to avoid losing him without compensation? Or will the NBA have a "Summer of Love" on its hands?