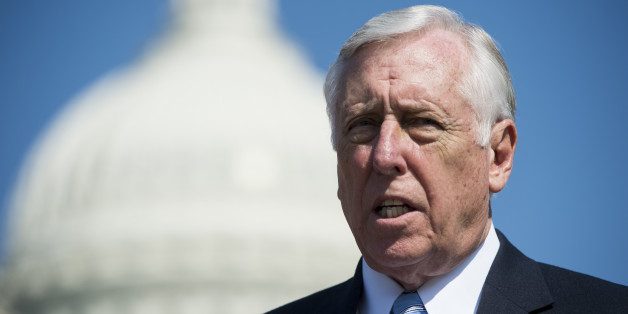 WASHINGTON -- Rep. Steny Hoyer (D-Md.), the second-ranking Democrat in the House, expressed his opposition Monday to appointing just one member of his party to the House Select Committee on Benghazi.
Nearly two weeks after the House voted mostly on party lines to launch a special committee to investigate the September 2012 attack in Benghazi, Libya, Democrats remain undecided on whether they will participate in the committee or boycott it entirely. Rep. Rosa DeLauro (D-Conn.) suggested a plan that would appoint just one Democratic representative to the committee, so Democrats could keep an eye on the investigation while still protesting its intent, which they view as politically motivated.
Hoyer dismissed the proposal, telling reporters on Capitol Hill that "you're either in or you're out."
"My view is that that's the worst of all possible worlds," Hoyer said. "You're sort of there, but you have one person while you have seven people over here. And that's not fair, it's not balanced and it would give a skewed perception of what's going on."
Hoyer would not specifically address a recent push to appoint Rep. Alan Grayson (D-Fla.) to the committee. Grayson said last week he was willing to serve on the committee and even expressed his interest to House Minority Leader Nancy Pelosi (D-Calif.).
Hoyer said while he understood the desire among his colleagues for a Democratic watchdog, "unless these are secret hearings, there's going to be someone there to watch anyway."

He added that Democrats were still in negotiations with House Republican leadership on whether they would have the ability to participate equally. Speaker John Boehner (R-Ohio) has named six Republicans to the panel, in addition to lead investigator Rep. Trey Gowdy (R-S.C.), and offered Democrats five appointees.
Hoyer said he supports Boehner's offer on the condition that "both sides have equal ability to go after the truth."
"I think it'd be in the best interest of a fair hearing and a determination of facts as opposed to political demagoguery for us to participate," Hoyer said. "But our participation is going to be based on whether or not the speaker carries out what he says he wants to see, and that is a fair and balanced hearing."
The Democratic side of the aisle, he added, must be granted equal opportunities to call witnesses and participate in the deposition of witnesses before they testify, along with equal access to all documents that are submitted by the administration or anyone else to the committee, and a "full and fair opportunity" to cross examine witnesses.
BEFORE YOU GO
PHOTO GALLERY
Below-The-Belt Political Attacks