If you spend most of your work day sitting at a desk, Weekend Today Show News Anchor and Personal Trainer Jenna Wolfe has a few excellent, dynamic workouts you can do without ever leaving the office.
First, Jenna gave us an exercise which gets you up and out of your desk chair, targeting common problem areas including legs, glutes and abdominals.
"I want you to sit all the way down with your legs flat on the ground, then come up slowly, using all the muscles in your body," she instructed.
"Try to do that 50 times. I want you to do this so quietly and lightly that I don't hear you sit down!" she said.
Next, Jenna gave us a great bicep workout which involves no equipment other than an office desk:
"Put your hands underneath the desk, push up and engage your biceps for 30 seconds, then resist for 30," she said.
"What you're doing is using resistance – no weight needed!"
Finally, Jenna recommends an incredibly simple, effective exercise using office supplies: take 20 paper clips and throw them on the floor at the office.
"Instead of bending over, squat down to pick them all up one at a time. Do these three things every day and you will see a big difference," she assured us.
For more of Jenna's exercise tips, view the slideshow below:
PHOTO GALLERY
Fitness Tips From Jenna Wolfe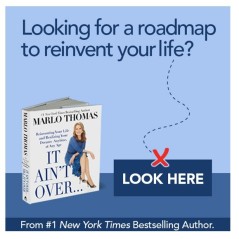 Add Marlo On Facebook:
Follow Marlo on Twitter:
Sign up to receive my email newsletter each week - It will keep you up-to-date on upcoming articles, Mondays with Marlo guests, videos, and more!