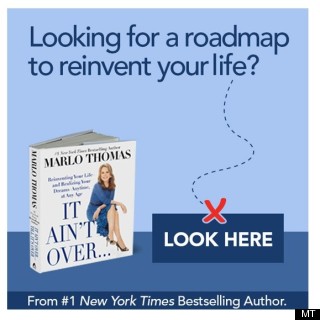 "One of the reasons I started my website is that I wanted a place for women to come together and dream. We women need to know that we don't have to hang on to an old dream that has stopped nurturing us—that there is always time to start a new dream. This week's story, an excerpt from my new book "It Ain't Over Till It's Over," is about Dianne Wood, a crafty entrepreneur who suffered a series of business failures that left her homeless—only to discover a wildly creative way to get back on track, earning more than a million dollars in the process.—Marlo, MarloThomas.com
Dianne Wood was always a creative type. When she was a child, friends who'd come over to her house expecting to watch TV or listen to records were quickly presented with a different option. "Let's make something!" Dianne would say, and soon the scissors would be out, or the crayons, or the Mix Master, and they'd be off, baking cupcakes and fashioning pinecones into a holiday decoration for the door.
There was hardly a scrap of material or cloth or cardboard that Dianne couldn't turn into something fun and clever. At least, not until the day she received a notice that her house had been repossessed. That's a hard one, making something from an eviction notice.
That blow, as devastating as it was unexpected, came in 2002, at a point in life when Dianne felt happy and secure. She had a lovely home in Danville, Virginia, her kids were grown, her business was strong. "I felt that I had made it," she says. "My husband and I had worked hard, and we were entering that period of our lives when we expected to reap the rewards of our efforts."
For Dianne, those entrepreneurial efforts had played out like a string of scenes in a screwball comedy: In the eighties, it was bunny pillows and ruffled curtains. The pillows were popular at local bazaars, but certainly nothing to live on. The curtains were a huge hit, "but they took me forever to make on my little itty-bitty sewing machine."
So Dianne moved on to women's and children's clothing, which was a big success -- that is, until the clothing industry moved to China and the domestic mills shut down. So next she tried scrap-booking, creating a line of die-cuts and stickers that impressed manufacturers. Only problem was, they never ponied up a check or closed a deal with her.
Eventually, the calamities took a crushing financial toll. Dianne and Bill had borrowed $250,000 to underwrite their new ventures, using their house as collateral. That's when that eviction notice reared its head. "The banker had promised me that he'd never take our home," Dianne says. "He swore. Then he did."
The Woods' options came down to few and none. "Bill took a job selling cars," Dianne recalls. "It paid terribly, but it put food on the table. It got us by."
Their accommodations were equally bleak: a former workshop building on her father's farm. "It had a toilet but no hot water, no kitchen sink. We cleared out space for ourselves, put up a wall just to give us the illusion of rooms, and got a shower, sink, and hot water installed."
But for all the blows she'd taken, Dianne refused to be knocked down. "I wasn't looking for a dream or a success story," she says. "I just needed to make a living so someday we would be able to purchase a home again."
Article Continues Below Slideshow
PHOTO GALLERY
Dianne Wood
She started slowly. Focusing on gourmet foods, Dianne launched a meal delivery service, cooking the meals herself. That bought her some time. Then she came up with an idea that felt like a hit: the Cocoa Cone, hot chocolate powder pressed into the shape of a cone that, when dropped into hot water, dissolved into hot chocolate. Another company had invented it, but it wasn't going anywhere. "It was drab and ugly," Dianne says, "so I added sprinkles and chocolate chips, and topped it off with a cheery ribbon. Now it had a wow factor." She priced it at $4.95.
"We decided to test it out at three trade shows in North Carolina," Dianne recalls. "We made 3,000 cones, figuring that would get us through all three. Well, at the first one, people were grabbing armloads, buying them by the dozens. We sold all 3,000 in one day. When the last one went, a little girl waiting in line just broke down and sobbed."
It was a solid win, but Dianne missed an even bigger jackpot; she had failed to trademark her product, leaving a larger corporation to swoop in and grab much of the business. But the good news was that after four-and-a-half years in the shed, she and Bill had earned enough to move into a new, bought-and-paid-for home.
Dianne continued to develop products ("though I wasn't sure there ever would be anything like the Cocoa Cone"), and one day she began surfing on Etsy.com. "One of the most interesting things about Etsy is that you can see how many units of a product another business is selling every single day," she says. "And I started to notice that paper straws were selling like crazy. I thought, I need to get me some straws."
But who knew that straws could be such a headache? They were made in China. Supplies were limited. There was a four-month backlog. They came in only three colors (gray, blue, and red). They were poorly made. And some were simply unusable.
Dianne instantly knew she could do better. If two or three colors sold well, what would twelve colors do? Or fifteen? Or maybe even prints and designs?
Dianne smelled a hit again. She found an American manufacturer, which at first wasn't interested. There were too many complications: They'd need to stockpile a lot of paper and get FDA approval for inks or dyes. Dianne was undaunted.
"If there's one thing I've learned over the years, it's 'Don't take no for an answer.' The plant was saying, 'What if they don't sell?' I said, 'What do you care? I'm paying you to do it. Just tell me what it costs.' Finally they agreed."
On a crisp November afternoon in 2010, Dianne's straws were delivered: fifteen colors arriving on fifteen shipping pallets, 240,000 straws per pallet. "All I had to do was take pictures of them and post them on the website. And people came out of the woodwork, from all over the world. It just exploded."
In 2012, Dianne's business, now called the Sugar Diva, did more than $1 million in sales. "My mom said, 'I don't get it—they're just paper straws.' And I said, 'Mom, I don't get it either. I'm just so happy I have them.'"
Dianne and Bill recently hired an operations manager for the company and brought their granddaughter on board to begin preparing for the day when she takes over. Dianne, meanwhile, reflects on her success.
"I have never given up," she says. "You get knocked down, you get stepped on, you get up, you brush yourself off, and you keep going. I've been all the way up and all the way to the very bottom. And look at me now."
To read 59 more inspiring stories, buy your copy of "It Ain't Over Till It's Over."
Click here.
Add Marlo On Facebook:
Follow Marlo on Twitter:
Sign up to receive my email newsletter each week - It will keep you up-to-date on upcoming articles, Mondays with Marlo guests, videos, and more!