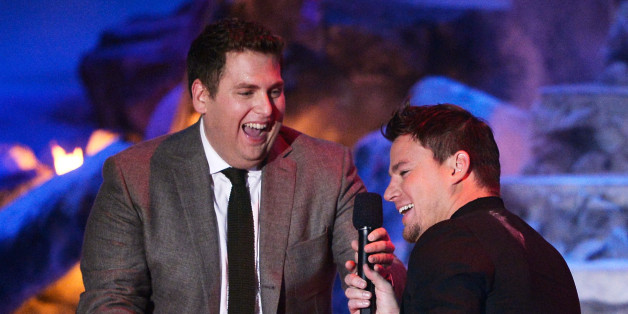 Before the release of "21 Jump Street" on March 16, 2012, Jonah Hill told Channing Tatum that he would kiss Tatum's penis if the comedy grossed more than $35 million. ("I will kiss your tip!" is the direct quote according to GQ.) The final opening weekend tally was $36.3 million, but Hill has yet to make good on his promise.
"I haven't made him do it yet," Tatum told GQ in a new interview with the magazine. "For obvious reasons. That's a bad bet to lose -- it's not too good to win, either. But definitely the shame of it would be enjoyable. It's my trump card, for sure. He tries not to bring it up at all costs. Unless he did something horrible to me, I don't know if I could ever cash it in. It would change our relationship forever."
Indeed, the proposition could also change Tatum's relationship with his wife, Jenna Dewan-Tatum. "I'd have to clear it with Jenna," Hill told GQ. "There's all sorts of loopholes that have to be taken into consideration."
Hill didn't really comment on the bet to GQ, but did offer this explanation for its existence: "Channing and I say a lot of stupid stuff when we drink together."
Whether the pair will make a similar wager before the debut of "22 Jump Street" is unclear. The sequel is out on June 13.
For much more on Tatum, including new tidbits about "Magic Mike XXL," the "Magic Mike" sequel that Tatum co-wrote, head to GQ.com.
BEFORE YOU GO
PHOTO GALLERY
Celebrity News & Photos