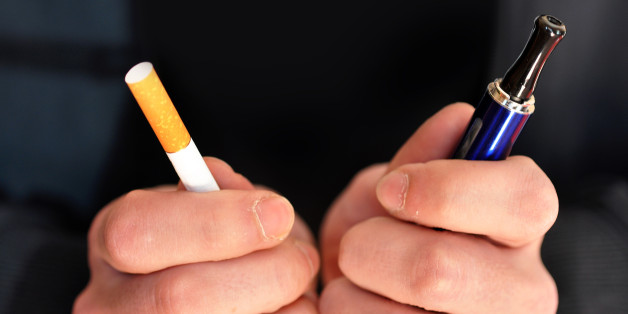 The science about electronic cigarettes and their effectiveness as smoking-cessation tools is still emerging, but consumer perceptions of harm associated with the products are only growing, according to a recent study.
The good news for e-cigarette companies is that general awareness of the product has risen from 16.4 percent in 2009 to 77.1 percent in 2013, and researchers anticipate that awareness about nicotine vaporizers "could be almost universal among U.S. adults in the near future," according to the study.
The bad news for the industry is that as awareness grows, so do perceptions about e-cigarettes' harmfulness. In 2010, 84.7 percent of current smokers believed that e-cigarettes were less harmful than traditional cigarettes. That number dropped to 65 percent in 2013.
Researchers also found that while people may perceive e-cigarettes to be less harmful than conventional cigarettes (as they've been marketed), there's no relationship between that perception and any attempt to quit conventional cigarettes.
The study, published online in the American Journal of Preventive Medicine, was conducted by Andy Tan, Ph.D., a post-doctoral fellow at the University of Pennsylvania's Annenberg School for Communication, and Cabral Bigman, Ph.D., assistant professor in the Department of Communication at the University of Illinois at Urbana-Champaign.
One possible reason for the large drop in e-cigarettes' perceived harmfulness is that the researchers compared two different data sets. The 2010 number comes from a study conducted by the Legacy Foundation, an anti-cigarette research center, while the 2013 number comes from a survey conducted by the National Cancer Institute. But Bigman suspects that the large drop in percentage points could be due to an authentic messaging shift: While e-cigarette companies controlled most of the conversation before 2009, research centers and public health officials have since weighed in on the products, making consumers more skeptical about them.
"Given the substantial differences in percentages, these findings may be reflecting a real shift in the information environment," Bigman said in an interview with The Huffington Post. "It's possible that the coverage of potential safety risks or lack of regulation have affected perceptions about the risk posed by e-cigarettes."
E-cigarettes, or battery-powered nicotine vaporizers, started becoming more widespread in 2007, reports CNBC, and research about their purported safety and effectiveness as a quitting tool soon followed. Evidence about their effectiveness as a smoking cessation product seems promising; for example, a 12-month study from 2013 found they helped smokers reduce cigarette consumption whether or not they were intending to quit, and another 2013 study found that e-cigarettes helped smokers quit at similar rates to nicotine patches. And a just-published study in the journal Addiction showed that e-cigarettes seemed to be associated with more success in quitting smoking sans professional help, compared with willpower or nicotine replacement therapies.
But recent coverage about e-cigarette explosions, as well as the news that e-cigarettes can deliver carcinogenic chemicals to the user, probably also has an effect on a consumer's perspective, said the researchers in their study.
Another big damper on e-cigarettes' perceived safety: the fact that the Food and Drug Administration doesn't regulate the products -- either as a smoking cessation tool or otherwise. The lack of regulation, combined with negative media reports about e-cigarette malfunctions and possible carcinogenic chemicals in e-cigarettes' vapor, convey "conflicting information about the relative safety" of the products, said the researchers in a press release.
There's also concern that e-cigarettes may become a gateway to conventional cigarettes among teens -- a CDC report from 2012 found that e-cigarette use among middle- and high-schoolers more than doubled from 2011 to 2012. According to that study, among middle- and high-schoolers who had smoked e-cigarettes within the past 30 days, 76.3 percent reported also smoking conventional cigarettes over that same time.
"The increased use of e-cigarettes by teens is deeply troubling," CDC Director Dr. Tom Frieden, M.D., M.P.H., said in a statement regarding the 2012 report. "Nicotine is a highly addictive drug. Many teens who start with e-cigarettes may be condemned to struggling with a lifelong addiction to nicotine and conventional cigarettes."
The FDA proposed rules in April to regulate e-cigarettes as tobacco products, which include reviewing the products, requiring registration with the FDA, banning sales to minors and putting health warnings on the labels. However, there's no telling if or when these regulations will be finalized and take effect.
Currently, e-cigarette companies are marketing their products as a competitor to regular tobacco cigarettes, claiming that the two products have different levels of harm and social consequences of smoking. But some major e-cigarette companies are actually owned by major tobacco companies, which presents Tan, Bigman and other researchers with the opportunity to continue keeping a close eye on the industry's marketing practices through the lens of past Big Tobacco strategies.
"We want to be really scrutinizing the kinds of marketing strategies that tobacco companies are taking," Tan told HuffPost. "Whether tobacco companies are increasing their stake in e-cigarettes, and whether that might be shaping people's perceptions of e-cigarettes and other tobacco products -- that's something we will be exploring in future research."