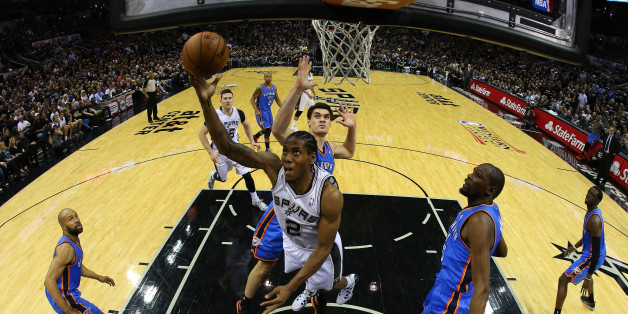 There are many words that could be used to describe the jaw-dropping spin move that Kawhi Leonard visited upon Kevin Durant but Shaquille O'Neal would probably prefer if you called it "sweet."
The third-year San Antonio Spurs swingman shredded the Oklahoma City Thunder defense with a GIF-inducing spin through the paint in the opening game of the NBA's Western Conference finals on Monday night. He chipped in 16 points as the Spurs pulled away for a 122-105 win and may have helped cement his new nickname.
(GIF via @cjzero)
O'Neal, who has been known to hand out a nickname or several, announced he would be referring to Spurs' dynamic young star as "Sugar K Leonard" during halftime of the team's series-clinching win over the Portland Trail Blazers in Game 5 of the Western Conference semifinals.
"I named Paul Pierce 'The Truth.' I named Tim Duncan 'The Big Fundamental.' Kawhi's new name is 'Sugar K Leonard,'" O'Neal announced on TNT's halftime report. "The boy is sweet."
WATCH: Shaq Explains 'Sugar K' Nickname
(Video via BlackSportsOnline)