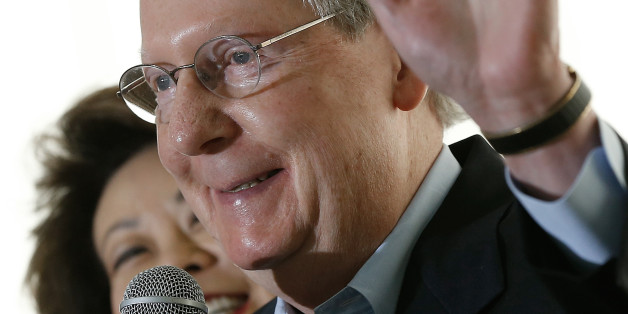 Senate Minority Leader Mitch McConnell fended off tea party challenger Matt Bevin to win Tuesday's primary for the Kentucky GOP Senate nomination, the Associated Press reports.
McConnell will face Democrat Alison Lundergan Grimes in November's general election.
The Associated Press offered details on the race earlier Tuesday:
McConnell drew a challenge from Bevin, backed by tea party groups in the state where they made their mark four years ago by sweeping GOP Sen. Rand Paul into office.

Out-maneuvered in 2010 when his preferred contender was defeated, McConnell responded this time by hiring a top aide to Paul as his own campaign manager. For his part, Bevin stumbled through a campaign that included an appearance at a rally of cock-fighting supporters.

Alison Lundergan Grimes, touted by Democratic Party leaders in Washington, faced three rivals in her bid to oppose McConnell in the fall in a race that is likely to be among the most expensive and competitive in the country.
HuffPost Pollster, which tracks the latest opinion polls, finds McConnell and Grimes in a dead heat for the Kentucky seat:
BEFORE YOU GO
PHOTO GALLERY
Mitch McConnell & Alison Lundergan Grimes