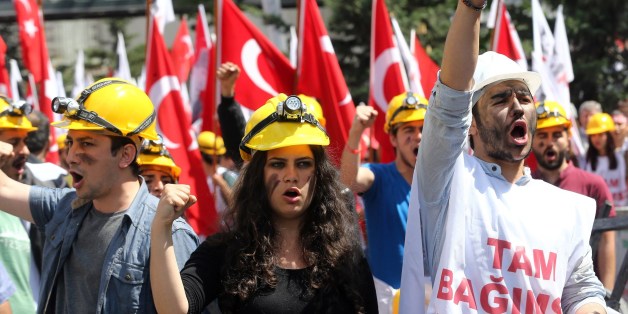 By Humeyra Pamuk
SOMA, Turkey, May 20 (Reuters) - The main labor union in a Turkish town hit by the nation's worst mining disaster called on thousands of workers to down tools on Tuesday at mines run by the same operator until the sites have been properly inspected.
Three hundred and one miners died last week after a fire in a mine in Soma, a small town 480 km (300 miles) southwest of Istanbul, fueling anger in a nation which has long had one of the world's worst workplace safety records.
Turkish authorities are holding eight suspects, including the head of the firm operating the mine, on provisional charges of "causing multiple deaths by negligence".
Soma Mining Chief Executive Can Gurkan was remanded in custody late on Monday, joining the mine's general manager and six others who are being held pending a formal indictment.
"We want the mining affairs directorate inspectors to carry out inspections and we will walk out until this has been done," Tamer Kucukgencay, regional head of the Maden-Is labor union, told reporters.
He said the action affected 3,200 mine workers in the town, where Soma Mining has three sites including the one hit by the fire. Monday was a public holiday in Turkey and miners have not yet returned to work.
The disaster has sparked protests across Turkey, directed at mine operators accused of ignoring safety for profit, and at Prime Minister Tayyip Erdogan's government, seen as too close to industry bosses and insensitive in its response.
While Erdogan has presided over a decade of rapid economic growth in Turkey, safety standards have failed to keep pace, leaving the country with one of the world's worst industrial accident records.
An initial report on the possible causes of the accident, cited by prosecutor Bekir Sahiner, indicated that the fire may have been triggered by coal heating up after making contact with the air, sending deadly carbon monoxide through the mine.
It was Turkey's worst mining accident, surpassing the death toll of a firedamp explosion that killed 263 miners in the Black Sea mining town of Zonguldak in 1992.
According to the prosecutor's dossier on the investigation, cited by the Radikal newspaper, it was not until 57 minutes after the fire broke out that the fire brigade was notified and another six minutes before ambulance services were contacted.
Radikal said gas masks used by the miners were effective for only 45 minutes.
The plant manager has denied negligence at the mine, which has been inspected by state officials every six months. Alp Gurkan, chairman of parent company Soma Holding and father of the detained chief executive, said last week those responsible would be punished if an inquiry found evidence of negligence.
Thirty-six people gave statements to prosecutors over the accident, the prosecutor leading the case said late on Monday. Aside from the eight remanded in custody, the others suspects were released but could still face charges, court sources said. (Writing by Ece Toksabay and Daren Butler; Editing by Nick Tattersall and Hugh Lawson)
BEFORE YOU GO
PHOTO GALLERY
Coal Mine Accident