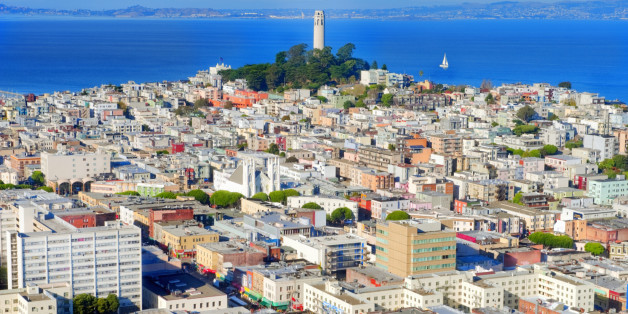 You'd better get a promotion (or six) if you ever want to afford even a moderately-priced home in San Francisco.
You need make at least $137,129 a year (before taxes) to afford a home in the Fog City, which according to a new report is the most expensive city in the country for home buyers.
Coming in a distant second place is San Diego, where you need to bring home $98,534 a year to afford the principal, interest, taxes and insurance of a median-priced home, the measure used to make the calculations by HSH Associates, the mortgage-tracker that published the report.
New York City scored third place -- perhaps surprisingly, because of its notoriously high rents. You "only" (hahaha!) have to make a salary of $89,788 a year to afford a mid-level apartment.
HSH Associates, which is based in New Jersey, says it used its own mortgage information along with home price data from the National Association of Realtors to come up with the figures.
The widening gap between rich and poor in San Francisco just keeps getting worse. A recent report ranked income inequality in the city on par with developing countries including Rwanda.
The changes are fomenting outrage in some circles -- with a lot of anger directed toward workers from the big tech companies. There have been several protests targetingthe private corporate shuttle busses that ferry young tech workers to their offices in Silicon Valley.
Protesters blame the shuttles, operated by large companies like Google and Facebook, for rising rents in the city. A study by Berkeley researchers recently found that 40 percent of San Francisco tech workers would move closer to their Silicon Valley jobs if the commuter buses didn't exist.
Look: The salary you have to earn to live in these U.S. cities, from lowest to highest (Image credit: HSH Associates)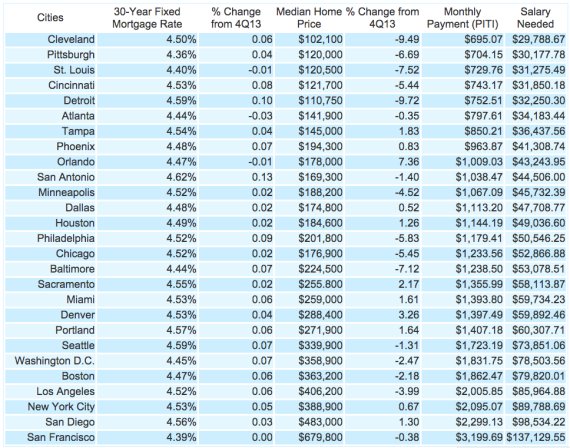 BEFORE YOU GO
PHOTO GALLERY
10 Most Expensive Places To Live In The U.S.