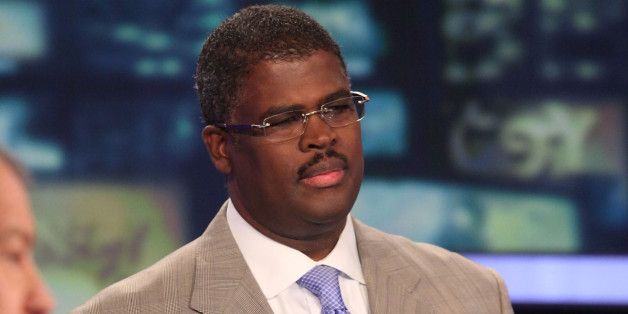 Fox Business Network is giving a show that will provide investment advice to a man with a history of promoting companies that turn out to be virtually worthless.
The program, titled "Making Money with Charles Payne," will kick off on June 2 at 6 p.m. EST and target those looking for "emerging investment prospects." The network announced the decision Tuesday in a press release.
The problem is, Payne's financial trustworthiness has been called into question multiple times in the past. Most recently, a 2013 investigation by watchdog group Media Matters for America found that Payne had been paid to promote three companies that are now worth almost nothing.
"Payne used his Fox credentials in promotional materials to assure skeptical investors that his advice was trustworthy," Eric Hananoki, a research fellow at Media Matters, wrote in the report. Payne joined Fox in 2007 as a paid contributor.
Brainy Brands Company, which Payne claimed could turn "$10,000 into 33,300," is now worth a fraction of a penny per share. Payne said NXT Nutritionals Holdings could "turn $10,000 into $25,000," but it is now worth less than a cent per share. And Generex Biotechnology Corporate, which Payne recommended could trade at $1.38 per share, is now worth less than 3 cents per share.
Before that, in 1999, Payne agreed to pay a fine of $25,000 to the Securities and Exchange Commission after the agency found that he failed to disclose payments he received from companies to promote their stock. He did so without admitting or denying wrongdoing.
Caley Cronin, a spokeswoman for Fox Business Network, did not respond to a request for comment by The Huffington Post. A call to Payne's financial advisory firm, Wall Street Strategies, where he serves as CEO, also was not returned.
Payne's controversial past is not limited to questionable financial advice. He also has said men who receive Social Security disability benefits are "modern-day eunuchs," criticized welfare programs for making people "a little comfortable to be in poverty" and defended venture capitalist Tom Perkins' comments equating the treatment of wealthy Americans to that of Jews in Nazi Germany.