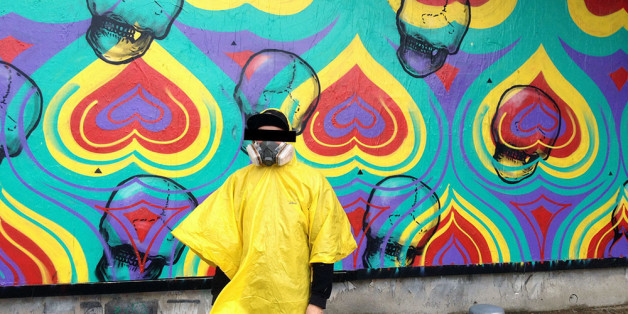 What happens when you bring the vibrant, alternative splendor of street art to the smaller, albeit ever-reaching confines of a computer screen? Simply put, you get gifiti:
The charming portmanteau (part GIF and graffiti, if you hadn't already noticed) comes to us courtesy of British artist INSA. The street art extraordinaire, known for creating ephemeral works around the globe, turned his temporary outdoor paintings into shareable motion pictures capable of holding your stare for more than a typical canvas.
In order to create the mesmerizing loops, INSA documents various stages of his actual street art projects, from the first layer of paint to the last minor detail... and every alteration in between. The bits and pieces of photography are then reworked into a single, repeating short that makes beauty of the artistic process.
"Mixing retro internet technology and labor intensive painting, INSA creates slices of infinite un-reality," the artist's states on his blog, "cutting edge art for the tumblr generation."
Banksy was hardly the first to prove how instrumental the internet can be in the hands of a street artist, but his efforts documenting street artworks around NYC proved to mainstream audiences that graffiti, wheatpastes and stencils can experience a whole new life in cyberspace. Gifiti takes that concept to new heights, giving street art a digital, DIY makeover that manages to maintain the integrity of INSA's signature geometric shapes.
Just try and peel your eyes away from his swirling creations.