A Tacoma man with prior convictions for sexual assault, drugs, and weapons offenses is behind bars again after his girlfriend slipped a gas station clerk a note asking for help.
The clerk, Bruce Dean, told KIRO that the woman came in May 17 looking nervous, asked him for a pen and paper and then scrawled a desperate message.
According to the station:
Court documents say it read," Can you call 911," then gave her license plate number. The next line said "DV" for domestic violence, and the most troublesome line was the last: "Baby in car."
Dean says he recognized the man in the car, although he didn't know his name. The woman's boyfriend is Mark Francis Valucas, a 4-foot-3 dwarf. The 36-year-old man has a history of violence and is a registered sex offender.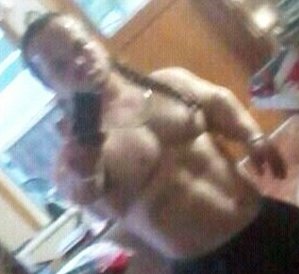 Valucus in a Facebook photo.
After the woman left, Dean did as she asked. Police arrested Valucus a short time later.
In a police interview, the woman, who was not identified, said she feared for her baby's safety and that Valucus beaten her with a baseball bat, cut her with a knife, burned her with a cigarette and threatened to kill her. A knife and a baseball bat were found in the car.
Valucus remains in Pierce County Jail on $500,000. Jail records show that he is charged with two counts of assault and one count of felony harassment.
KIRO reported the suspect's name as Mark Valuckas, but jail records give his name as Mark Valucus.
Like Us On Facebook |

Follow Us On Twitter |

Contact The Author
BEFORE YOU GO
PHOTO GALLERY
Missing People