Conservationists did everything they could to save Mountain Bull, the legendary Kenyan elephant.
They removed a significant chunk of his tusks to make them less appealing to poachers. They built an elephant migration corridor so that he and others could travel safely through the country. They even fitted Mountain Bull with a tracking device to follow his every move.
But in the end, it simply wasn't enough.
Earlier this month, 46-year-old Mountain Bull was found dead. The bull elephant's shortened tusks had reportedly been hacked off and his carcass was covered in spear wounds.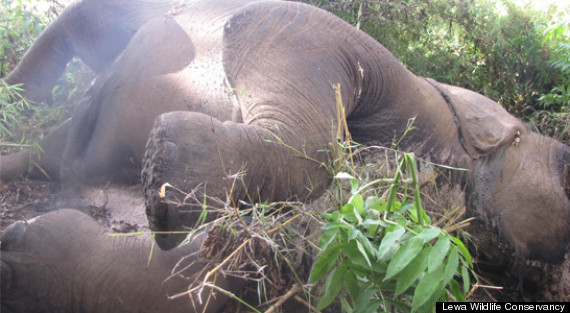 This, according to the Lewa Wildlife Conservancy, is Mountain Bull's carcass. His body was found on May 15, the organization said.
"Mountain Bull's death is a great loss to the conservation fraternity," the Kenya-based Lewa Wildlife Conservancy said in a statement last week. "He taught us much about elephant and animal behavior, migration routes and patterns, and to a large extent, left many inspired by his bravery and resilience."
According to CBS News, the majestic six-ton elephant was a tenacious survivor who had previously escaped poachers.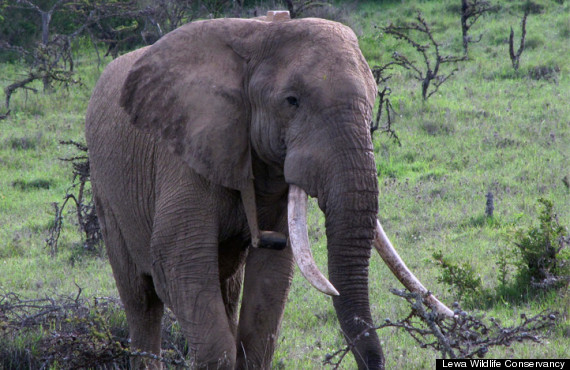 Mountain Bull
Described as an "undaunted explorer" who was known to plough his way through fences during his annual migration route, Mountain Bull had become an icon for elephant conservation efforts in Africa. The Lewa Wildlife Conservancy credited the animal as the inspiration behind a "pioneering" elephant corridor in Kenya that has "led to the opening up of the traditional migration route of over 2,000 African elephants that had previously been blocked by human development."
Condolences from the around the world have poured in as conservationists lament the death of Mountain Bull.
On May 15, conservation group Save the Elephants posted this heartbreaking tribute on Facebook:
"Everyone on Lewa is shaken and upset about the loss of Mountain Bull," a Lewa rep told social advocacy website TakePart. "His personality and charisma made him both infamous and beloved."
Every year, poachers are estimated to kill more than 30,000 elephants for their ivory tusks, according to the website.
To find out how you can help save the elephants, visit the websites of the World Wide Fund for Nature and Save the Elephants.