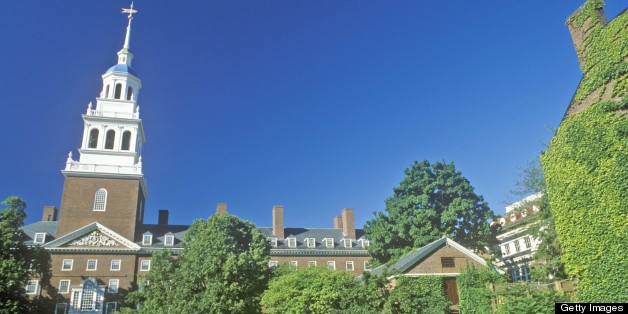 A recent National Review column about rape has spurred a flurry of horrified reactions.
On Monday, writer A.J. Delgado attributed the rising number of rapes reported on college campuses to more women simply "crying rape."
There was plenty of backlash, with Slate's Katy Waldman calling the claim the National Review's "most wildly offensive premise yet," and Cosmopolitan managing editor Alie Martell calling the piece the "worst ever article published."
Investigations of college rape reports = EXTREME FEMINISM according to this worst ever article published http://t.co/lTStgjna7P

— Alie Martell (@aliemartell) May 21, 2014
Uh oh, looks like @missAJDelgado didn't get the GOP memo to stop using the term "legitimate rape." http://t.co/tptgJd80xO

— Jill Filipovic (@JillFilipovic) May 21, 2014
This was even more awful than I expected. RT @NRO: 'Crying Rape': Is there really a rape epidemic? Probably not. http://t.co/nJ2I1Wf7PS

— Rachel Cohen (@rmc031) May 20, 2014
Takeaway from this: Never date a National Review contributor. http://t.co/of8o6OLr2p

— Erin Gloria Ryan (@morninggloria) May 21, 2014
Your daily WTF RT @kaysteiger: "But by the liberal definition of my generation, I have been raped. Multiple times." http://t.co/kNJMjOnyr5

— Daniel Strauss (@DanielStrauss4) May 21, 2014
In her piece, Delgado blamed liberals for "brainwashing" women into believing they were raped. She lamented that liberals have expanded the definition of rape to now mean "any sexual activity in which the woman is not sober," and blurred the line between "rape" and "sexual assault."
She proceeded to claim there are two reasons why the increase in rape reports is merely a myth.
"Are college administrators, now largely in charge of presiding over rape allegations, quick to pronounce a situation as a rape, erring on the side of caution and of extreme feminism?" Delgado wrote.
She continued, "Are women themselves being taught to believe they were raped (the aforementioned "only sober consent is true consent!" notion)? Yes. And that, ironically enough, makes these women victims of liberal culture, too."