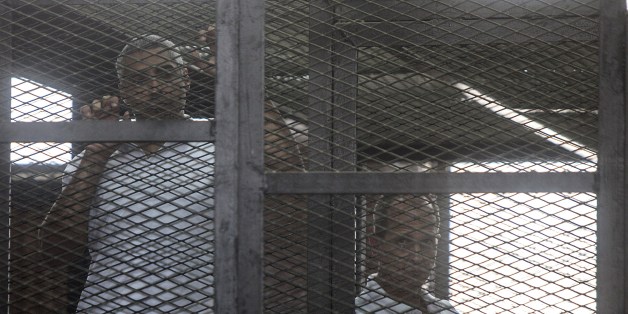 The evidence presented against three Al Jazeera journalists in Egypt on Thursday is drawing more outrage over the journalists' imprisonment and trial.
Peter Greste, Mohamed Fahmy and Baher Mohamed appeared in Egyptian court on Thursday for the ninth time since their arrest. They were arrested in December for allegedly airing false news and conspiring with the Muslim Brotherhood — charges which they and Al Jazeera reject. They have been held without bail, and made eight other court appearances prior to Thursday, only to have the trial adjourned each time.
Al Jazeera reported that in the latest court session Thursday, the prosecution showed video, audio clips and photos as evidence against the journalists. The prosecution said the audio recordings were found in Greste's belongings, which he denied.
A senior producer at Al Jazeera tweeted that one of the pieces of audio was apparently a Gotye song:
Evidence against 3 .@AJEnglish journos in #Egypt court: BBC podcast, faked photo of @repent11 with #Tantawi & a Gotye song (!) #FreeAJStaff

— d. parvaz (@dparvaz) May 22, 2014
Guardian correspondent Patrick Kingsley also said one of the photos presented was "clearly photoshopped":
#AJtrial – A better close-up of this clearly photoshopped image of @Repent11, which actually features Marshal Tantawi pic.twitter.com/l92qEduIWh

— Patrick Kingsley (@PatrickKingsley) May 22, 2014
#AJtrial – Judge has put his shades on again to watch these videos. pic.twitter.com/FsTJoVBA3v

— Patrick Kingsley (@PatrickKingsley) May 22, 2014
Last month, the judge dismissed the prosecution's first pieces of video evidence in the trial as "irrelevant." The videos included, mysteriously, news clips about an animal hospital with donkeys and horses, and Christian life in Egypt.
The imprisonment of Greste, Fahmy and Mohamed has sparked a global campaign to free the journalists. On Thursday, others tweeted:
@aljazeera news journalists back in court in #Egypt today- held for 145 days now. Disgrace. Journalism is no crime. It's time to free them.

— Bill Neely (@BillNeelyNBC) May 22, 2014
And by astonishing, I mean it's unreal that it's gotten this far and that this sort of evidence is part of a 'terrorism' trial #FreeAJStaff

— Kamahl Santamaria (@KamahlAJE) May 22, 2014
Watching #Egypt -- another day in court for @petergreste & colleagues. Where's the evidence against them?
#FreeAJStaff

— Philippa Thomas (@PhilippaNews) May 22, 2014