Last week Yams, a collective of 38 mostly black and queer artists, withdrew their piece from the Whitney Biennial in protest of "Donelle Woolford," an artwork in which a white male artist and Princeton professor creates a fictional black female artist named Donelle Woolford with the help of black actresses. The objection was the final straw in a Biennial that already featured only eight non-fictional black artists out of the 104 represented. As Walter Robinson explained: "the whiteness of the Biennial is its own punishment."
No exhibition proves this point to be true like "Black Eye," a Tribeca-based exhibition featuring 26 of the most electric black contemporary artists of the moment. In a dizzying variety of media, from a wide range of perspectives, the represented artists explore the complexities of identity while communicating the importance of real diversity in the art world -- as opposed to meeting a respectable quota that repels both guilt and true inclusion.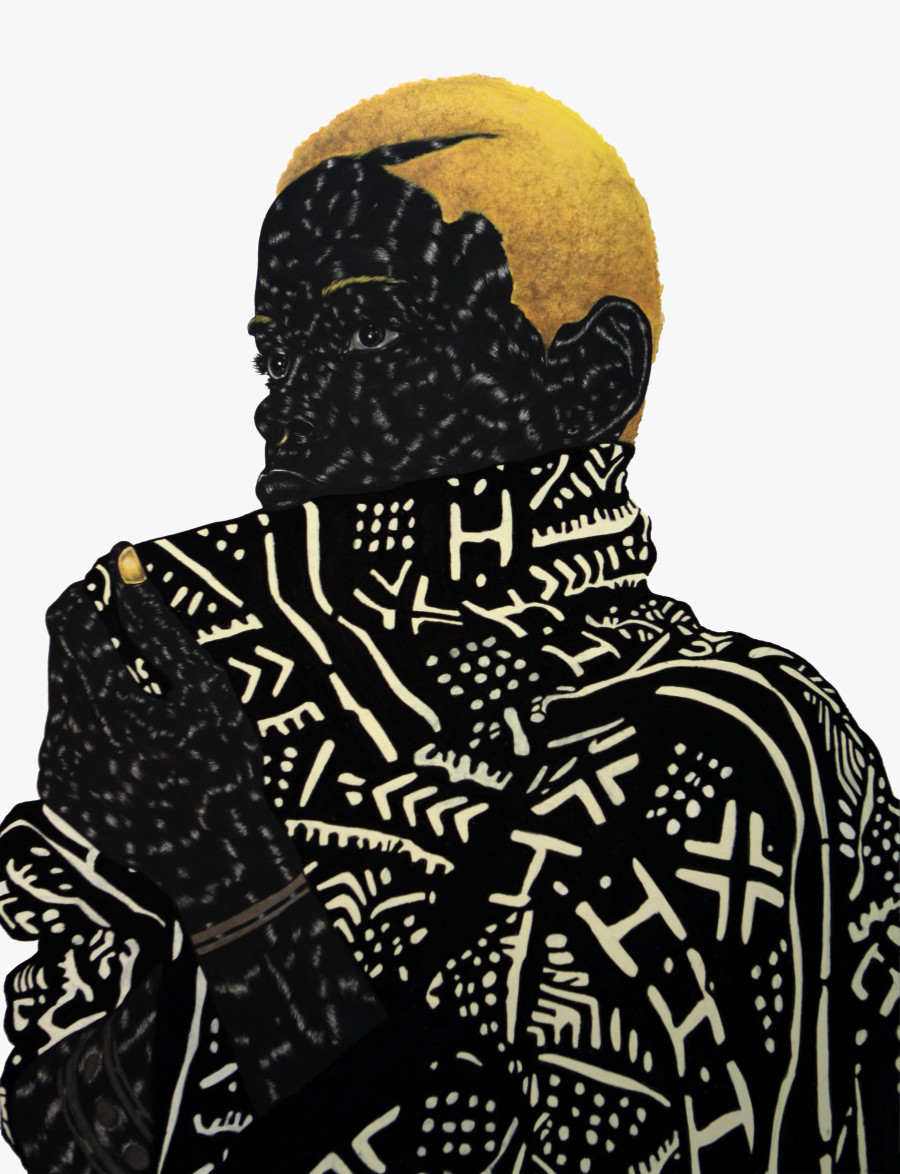 Toyin Odutola, Hold It In Your Mouth A Little Longer
Unfortunately this year's Biennial, slated as "one of the broadest and most diverse takes on art in the United States that the Whitney has offered in many years," misses the mark. "We'll call it passing. We'll call it presence without provocation," explains the manifesto for the Whitney Biennial for Angry Women. "We'll call it just enough black faces to assuage liberal guilt without the discomfort of challenging anything. We'll call it the fantasy of postracial America. We'll call it visible invisibility."
Nicola Vassell, the curator of the exhibition, expressed similar hesitation regarding the "postracial" Obama age. The former director of Deitch Projects and Pace explained to The Cut: "It was obvious to me that the Obama era had fundamentally shifted the perception of blackness to a more 'wholesome' place in the wider cultural mainframe. But what does that mean exactly? Is this shift just a guise for prejudice that persists subconsciously? Are we talking Band-Aids rather than stitches for gaping wounds? Or do we have a group of terrific artists who can, in a Freudian sense, tackle the neuroses surrounding race in a compelling, contemporary way? The answer is, Yes, We Do."
The "Black Eye" artists represent some of the most inventive and alluring figures in the contemporary art landscape today. Jacolby Satterwhite, a young artist whose work was featured in the Biennial, transforms drawings made by his mother Patricia, who suffers from schizophrenia, into CGI digital landscapes that explore the limits of the body in motion. "I don't think of myself as a black body in my work or a queer body in my work or even a sexual body in my work," Satterwhite says in an interview for the exhibition. "Those elements exist in there but for me they are the conceptual building blocks that assist the power of the more objective building blocks."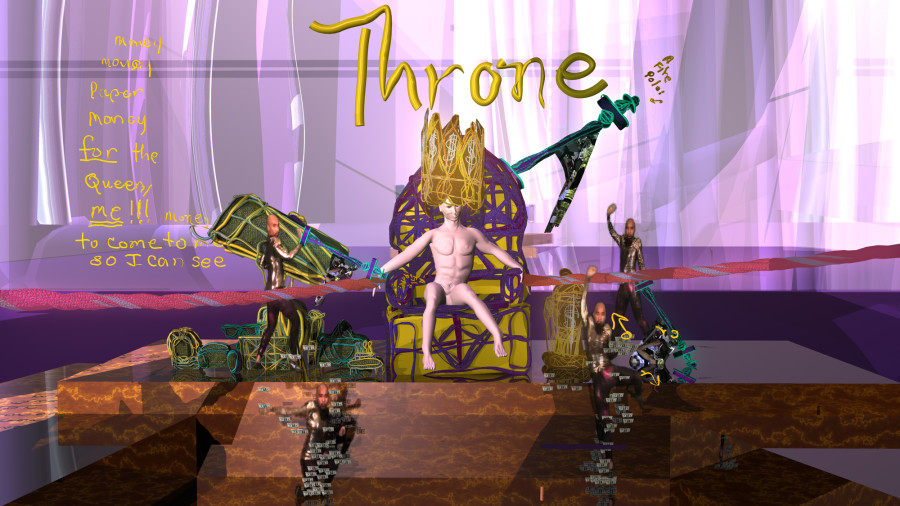 Jacolby Satterwhite, Throne
Also on view is Hank Willis Thomas, whose piece "Black Imitates White" raises questions about the ability of black identity to stand its own. "As a person of African descent I recognize what I know about myself has been taught to me by people who identify specifically as white and I really am curious about who benefits from being able to tell the story," he says of his work. "I am recognizing that there's all kinds of meanings in there but the meanings I see may be different than the meanings other people see."
"Black Eye" denies a singular perspective of the black experience; even the title itself offers two possible interpretations. "A black eye is our true tool -- it's the thing a lot of us rely heavily on for this art world to even exist," Vassell explained to T Magazine. "But at the same time, a black eye is the document of having been bruised." At once a catalyst and an archive, a badge and a bruise, the stunning show makes painfully clear that exhibiting black artists is about far more than representation. And having a white male artist speak on a black artist's behalf certainly won't help.
The exhibition features work by artists including Derrick Adams, Sanford Biggers, Nick Cave, Kudzanai Chiurai, LaToya Ruby Frazier, David Hammons, Rashid Johnson, Deanna Lawson, Kerry James Marshall, Wangechi Mutu, Jayson Musson, Steve McQueen, Rashaad Newsome, Toyin Odutola, Maria Magdalena Campos Pons, Gary Simmons, Nari Ward, Kehinde Wiley and more.
"Black Eye" runs until May 24 at 57 Walker St. in New York.
BEFORE YOU GO
PHOTO GALLERY
30 Black Artists Under 40