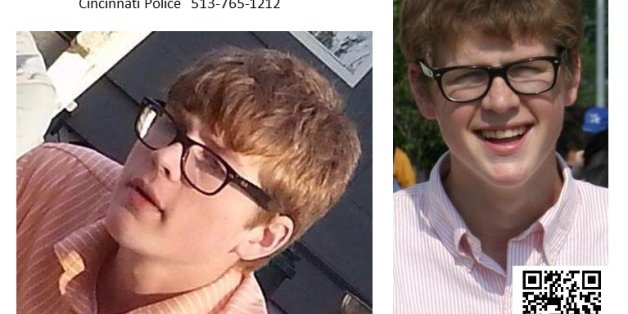 Authorities say they have surveillance video that they believe shows missing Ohio college student Brogan Dulle walking near his apartment on the morning he disappeared.
"[The video] shows what we believe is Mr. Dulle walking down the street, looking for his cellphone at about 3.a.m. in the morning," Cincinnati Assistant Police Chief James Whalen told reporters at a Thursday afternoon press conference.
Whalen said Dulle appears to be carrying some sort of flashlight and "at some point he goes out of camera range."
Dulle, a 21-year-old student at the University of Cincinnati, left his McMillan Street apartment around 2 a.m., Sunday. Dulle's roommate, Zac Greiwe, reportedly told police Dulle left to retrieve a cellphone he lost earlier that evening while visiting either The St. Clair, a nearby bar, or Mac's Pizza near UC's campus.
Dulle never returned to his apartment and was reported missing on Monday after he failed to show up for his job as a swim coach at Mercy HealthPlex. Police say Dulle does not have his wallet or identification with him and does not own a car.
CASE PHOTOS: (Story Continues Below)
PHOTO GALLERY
Brogan Dulle Missing
According to Whalen, cellphone records obtained from Verizon indicate Dulle's phone last pinged a cellphone tower at 2:24 a.m., Sunday, and has not been powered on since.
Despite multiple searches of the area, authorities say the surveillance video is all they have right now.
"We don't have any other indication of where he is," Whalen said.
The assistant police chief also said detectives have found no indication of foul play.
"We have to operate off the assumption that he decided to do something, and he's doing [it]. He decided to go somewhere, and that's where he is," Whelan said. "Or if foul play befell him, it's just unusual that we don't get a phone call, somebody saw something."
Dulle is described as 6 feet tall, 145 pounds, with blond hair, blue eyes and glasses. He was last wearing a blue shirt and khaki pants.
According to Cincinnati.com, a total of $20,000 in rewards are being offered by various people for information leading to Dulle.
Anyone with information on his whereabouts is asked to call the Cincinnati Police Department at (513) 765-1212 or Crime Stoppers at (513) 352-3040. Family members have established the "Help Find Brogan Dulle" Facebook Page.
Like Us On Facebook |

Follow Us On Twitter |

Contact The Author
BEFORE YOU GO