Rev. Frank P. Hreno, a Catholic priest, appeared in court on Tuesday to fight charges that he had threatened a fellow priest, Rev. Emeka Okwuosa, with murder, reports The Daily Record. The incident allegedly took place at the Vocationist Fathers Retreat and Conference Center in Florham Park, New Jersey, where Hreno is listed as director.
Hreno was charged with "terroristic threats" after Okwuosa said that he threatened to kill him on April 18, according to a criminal complaint. When police responded to a 911 report of assault at 8:55 a.m., they found Okwuosa bleeding from his left arm, according to the Florham Park Eagle. Okwuosa told Patrolman Brian Mensing that Hreno chased him with a four foot crucifix while threatening to kill him. Okuwuosa told police that his injuries were caused when Hreno swung the crucifix through a glass door, which Hreno disputes.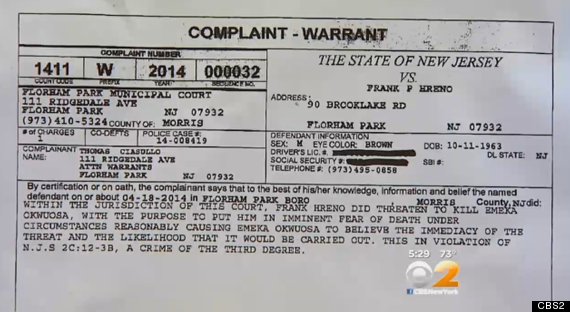 The incident reportedly revolved around the use of a vehicle leased by Hreno which Okwuosa considers community property.
The Vocationist Fathers Retreat and Conference Center is used for retreats, Christian-based picnics and conferences, and the fostering of spirituality, according to their website. Their mission is to "foster vocations to the priesthood and religious life, especially among the poor."
According to the Ashbury Park Press, Hreno pleaded "not guilty" to the charge, but has voluntarily agreed to leave the center where he lives with Okwuosa and stay with his parents in Morris County while the charge is pending.
Okwuosa told CBS New York that he holds no grudges, and is praying for Hreno.

BEFORE YOU GO
PHOTO GALLERY
25 Countries with Most Catholics in 2010