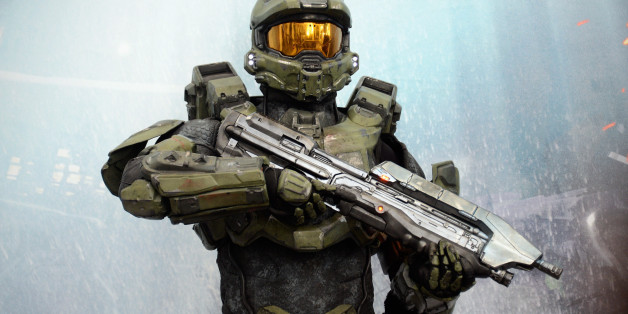 For years, "Halo" has been synonymous with "blockbuster" in the gaming world. The sci-fi, shoot-'em-up series made the Xbox 360 the console to buy. It created iconic characters in Cortana and Master Chief, and its seven games (if we're counting "Halo Wars" and "ODST") have sold millions of copies.
So when it was announced last year that none other than Steven Spielberg would be bringing the "Halo" franchise to television, it's a bit of an understatement to say that gamers were excited. But the series has a lot to live up to, and it's easy to be skeptical. Microsoft will reportedly release it on its second-place-in-sales console and a premium channel that's not HBO.
The Netflix-like jump into original television would be a huge coup in the company's quest for the living room -- if it works. Here's why it could:
1. Halo Is The Franchise To Do This
Halo has also already proven it can convert well to TV: The 2012 Emmy nominated "Halo 4: Forward Unto Dawn" -- an $8.9 million miniseries that launched in conjunction with "Halo 4" -- earned good reviews from critics and fans alike. "Halo 4" (the game) went on to earn $300 million in its first week, an industry record at the time. A repeated success would mean money in the bank for Microsoft, whose "Halo 5: Guardians" game will launch in conjunction with the TV series in fall 2015.
To figure out how a "Halo" TV show might fare, let's first look at the game-based films. (In the past, it's been more common for video games to be turned into movies than into TV shows.) It's not pretty.
"Prince of Persia." "Doom." "Super Mario Bros." None were well received, either with critics or at the box office, even though each respective video game series had a devoted following. Sure, there are some moderate successes on the big and small screens ("Resident Evil" and "Pokemon" come to mind), but the overall reputation of video game movies is generally pretty laughable.
But that tide may be turning. "Halo" isn't the only big-budget, gaming-based project Hollywood has in the works. "Assassin's Creed," "Bioshock," and "The Last of Us" have all been considered for larger movie projects, and Screenrant suggests that video game movies might just be the next big thing.
On the small screen, television shows based on pre-existing media are having a huge moment. "The Walking Dead" and "Game of Thrones" are even driving viewers back to their original comic books and novels. If the series does well enough, Microsoft might have the chance to create a few new gamers -- gamers who are largely interested in checking out a video game series that is only available on Xbox.
2. The Timing Is Perfect
Two years ago, the notion of Microsoft making TV shows would be far-fetched. But if Netflix's "Orange Is the New Black" and "House of Cards" have taught us one thing, it's that smash hit shows don't necessarily have to come from network television.
Microsoft is reportedly in talks with Showtime, home to critical hits like "Dexter" and "Homeland," to air the "Halo" series to audiences who don't own an Xbox One. According to Forbes, the show will first air on Showtime and then come to Xbox One.
That choice is a little strange. Why opt for Showtime when everyone and their brother has signed up for HBO? And why, why, put it on Showtime first, before the most loyal fan base can watch it on their consoles?
Well, one benefit of not being on HBO is that the "Halo" TV show won't be competing with established hits like "Game of Thrones" for budgets and publicity. Microsoft will also have more creative control without HBO executives looking over its shoulder.
The choice between HBO and Showtime may not matter. Premium channels like those two don't measure success at the same rate as their basic cable counterparts because they don't rely on advertising. A show doesn't need huge audiences to be profitable; it just has to keep customers renewing their subscriptions. If Microsoft plays its cards right, big franchise + big-name director + new genre unlike anything else currently on television could create some valuable hype for "Halo" and the video game console on which it's available.
3. Microsoft Isn't Putting All Its Eggs In The 'Halo' Basket
"Halo" may the Microsoft's flagship TV show, but it's not the company's only iron in the fire. Microsoft's potential television offerings include other live-action series for video game titles like "Gears of War" and "Fable," as well as a half-hour variety show featuring Sarah Silverman, Michael Cera, Tim and Eric and Reggie Watts. There's also a livestream of the Bonnaroo music festival and live-action series based on a variety of topics, including serial killers and undead gunfighters.
All of which is to say the wide range of topics and partners -- everyone from Spielberg to Seth Green -- means Microsoft isn't hanging all its streaming-television hope off of just one show. Even if "Halo" isn't a hit, one of those other shows could be, and could still drive interest in Microsoft's new console.
In the end, all roads lead back to the Xbox One. Sure, no one is going to spend $500 on a console just to watch a television show. But a few hits might persuade some late-to-the-party, next-gen console buyers to opt for an Xbox One over its competitors, especially now that Xbox One is more comparable in price.
More details about the "Halo" series and the rest of Microsoft's expansion into television will undoubtedly be revealed in June at E3, the video game industry's big annual conference in Los Angeles. But at this point, it's clear that Microsoft isn't just talking video games anymore. PlayStation may have won the battle for sales so far, but Microsoft is still vying for the Xbox One to be the entertainment hub of the living room. And if there's one activity that's utterly dominated American living rooms since the middle of the 20th century, it's watching TV.