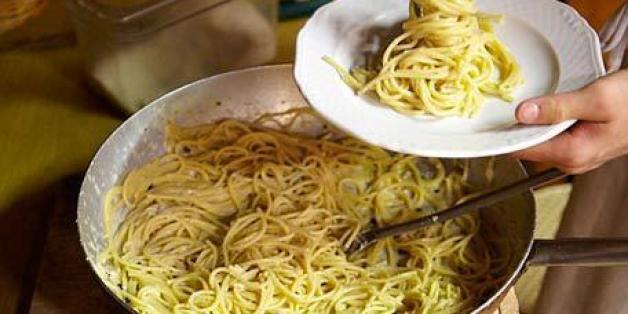 For many people, cooking is like meditation. Professional chefs and home cooks alike view cooking as a way to relax and unwind. Spending time in the kitchen, working with your hands and focusing all your energy on a methodical recipe can be therapeutic. Maybe you crack open a bottle of wine and dive in for some solo time, or maybe you're cooking amongst friends or family. Whatever your style, cooking can be the perfect way to unwind.
We take relaxation seriously at the The Huffington Post. Unplugging and recharging isn't only something we value -- it's something we think is imperative for success and happiness. Predictably, we at HuffPost Taste are big fans of the cooking-as-relaxation school, and practice as often as we can. We have our own comfort recipes -- bucatini all'Amatriciana, roast chicken, buttermilk ranch dressing and mac & cheese -- but we're curious about other people's favorites. We're really curious about what the pros make at home to relax.
Restaurant chefs may cook elaborate meals all day and all night long at work, but at home they're often cooking the same, simple meals that the rest of us are making. (Although most likely they're a lot better!) Some chefs, like Marcus Samuelsson, have been kind enough to publish books on the food they make at home -- sharing with us an intimate look into their home lives and the comfort they take in their own family recipes. (Samuelsson's "Marcus Off Duty: The Recipes I Cook At Home" comes out in October, 2014.)
If you're as curious as we are about what professional chefs are cooking at home to relax, here are eight go-to comfort meals from some of the country's best chefs:
PHOTO GALLERY
What Chefs Cook To Unwind
Want to read more from HuffPost Taste? Follow us on Twitter, Facebook, Pinterest and Tumblr.
BEFORE YOU GO
PHOTO GALLERY
Our Favorite Comfort Foods