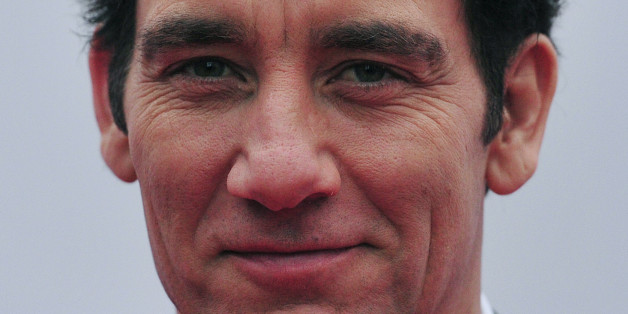 Clive Owen, regarded as one of the more talented actors of his generation, has starred in major Shakespeare productions, big-budget Hollywood flicks and independent films to great acclaim. In recent years, he has made a noticeable shift away from generic Hollywood, carefully hand-picking his roles.
Owen stars with Juliette Binoche in the upcoming "Words and Pictures," a film he has been committed to for years and finally just completed. Owen plays a prep school English teacher opposite Binoche, who stars as an acclaimed artist and art teacher new to the school. While the film centers on their debate over which is more important -- words or pictures -- the true story goes into his struggle with alcoholism, her struggle with rheumatoid arthritis, and their possible romance.
The Huffington Post sat down with Owen, 49, in Los Angeles to get insight into what goes into playing a drunk, how he loves to trash a room and what we can look forward to when he plays an insane, 1900s-era drugged doctor in Steven Soderbergh's "The Knick."
"Words and Pictures" begins with your character, a teacher, trying to inspire students in the "era of the undead." What inspires you the most in your work and do you ever feel particularly uninspired?
Not if the writing is good. No, never. The best place to be for an actor is to feel like you have to live up to good writing. That's the challenge. You want to nail it. The only time you're uninspired is if the writing is not really good -- and I tend to try and steer clear of that if I can! [Laughs]
You haven't done a ton of "Hollywood" movies in recent years -- is that a conscious decision? So many actors strive to find franchises in Hollywood, did you ever feel that pressure?
No, not at all. My career has all just been about a series of choices of things that I respond to. I learned a long time ago that the best way to keep a career going is be good. In whatever it is. It can be small, big, anything. The best way to be good is to have an appetite for it -- to feel like you've got something to do and you have a passion for it. So that's why I've been doing what I've been doing.
There's a great classroom scene in "Words and Pictures" in which you passionately recite a John Updike passage by heart. What was the dynamic like with the students?
We shot that right at the beginning. It was a bit of unfortunate scheduling. The first three days were all my classroom scenes. Nothing but me talking to the students -- I was like, "Thanks! There's a nice warm-up."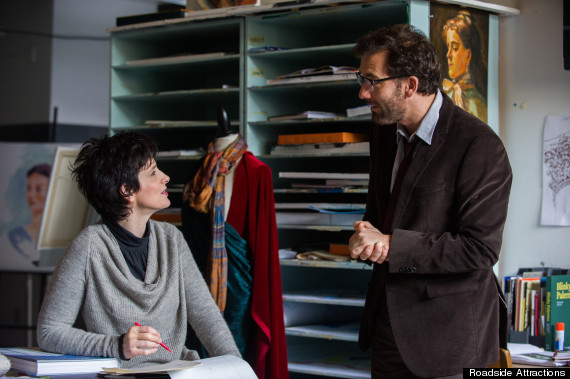 What is the ideal way to start a film?
Scenes that aren't just me talking for three days straight. [Laughs] That was pretty tough. Ultimately you could be expected to dive in at any point, but I hate the first few days of any film. You're getting used to everybody. I always want to be a week in. And then I'm in the groove.
Is there anything that helps you get more in the groove?
No. You can rehearse and do all that, but it's always the case of getting to the end of a film and you think, "Why can't I go back and do the first few days again?"
Can you tell me anything about "The Knick" with Steven Soderbergh? It looks incredible.
It was unbelievable material and the script was unbelievably good. And then they wrote nine more that were equally brilliant. Soderbergh is fantastic. It's an incredible world -- the world of medicine in 1900. And it's so brilliantly researched. Everything is inspired by real things. I play such a crazy character. He's a genius.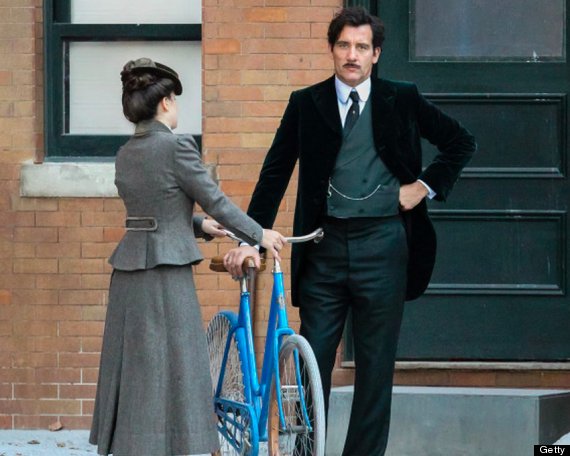 That mustache alone is pretty crazy. Was it real?
Yes! I did have to walk around with it. In fact, a friend saw me in London over a break and said, "You haven't been walking around New York looking like that, have you?" I play a genius doctor -- a complete maverick -- who is also consuming lots of drugs.
Who was cast first in "Words and Pictures," you or Juliette Binoche?
I was attached to this film for about three years. [Director] Fred Schepisi came to me and I really loved the script. We were going to do it but my schedule kept messing up. Every time I went back to read it, I didn't want to let it go. I was thrilled when Juliette came on board because I have always thought she was such a special actress. She read it and wasn't sure. Someone else got involved and then she decided she did want to do it. I was just thrilled.
What did she bring to this film?
Her brilliance. What was great is that we had a really similar sense of humor and I think we made each other laugh in the very first scene we shot. Fred will tell you he got a little pissed off at us laughing when we shouldn't have been and he'd have to wait for us to sort it out. It just kept it buoyant and lively. And it was genuinely very playful.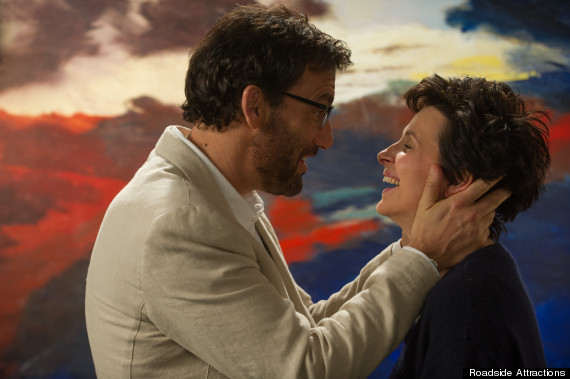 How important do you feel the alcoholism component was for your character?
It was everything. It's what he's struggling with -- he's a functioning alcoholic. However witty, smart, funny; he's an alcoholic. The challenge for me was calibrating that so it didn't get too heavy. It's not that kind of movie. It needed to keep light, but it needed to be truthful. Playing drunk is not easy.
How do you do that?
It's something we talked a lot about. I went back and looked at performances of people who played drunks. I wont say who, because some I didn't think were very good [laughs]. There's a cliché way of doing it. I had to make sure it was believable and that the guy looked like he was drunk but wasn't being a clown about it. It was important to be a bit of a pathetic drunk as well, especially in terms of stuff with his son. He's supposed to be sad. And the best way to be sad is to be a bit pathetic.
There's a great scene in which you're drunk with music blasting and you start trashing the house and breaking things left and right. How did you shoot that scene?
I chose that David Bowie track, "The Stars (Are Out Tonight)". I was listening to the album a lot and it helped inspire me to trash that house. Fred ended up buying the track because he got so used to editing the scene with it playing. How great is that?
What kind of high school did you go to? What were you like as a teenager?
I went to a very normal comprehensive school but the big thing that happened to me is when I was 13, I did a school play and said, "I want to be an actor." I joined a youth theater in my hometown and I just fell in love with it and did play after play.
At the time, did you feel you were good at it or was it just something you enjoyed?
I did a school play and people thought I was very good in it. And then I joined this youth theater and they gave me lots of good parts. I come from a small town called Coventry and it had a little youth theater for local kids. I was incredibly lucky because the guy running it then went on to run the Royal Shakespeare Company to great acclaim. I applied to drama school and he helped me with that. So when you talk about inspirational teachers, he was one who set me on the right path.
What kind of films did you like at that age?
I wasn't really interested in films. I was more about theater and doing plays. But then when I got to drama school, we were very lucky in London because there were cinemas that showed classic films and European movies and it was a very healthy time for all of that. You could go and catch anything and all the classics would come back around. That was my film education.
My last question is an obvious one, given the subject matter of your film: Do you think words or pictures are more powerful in the end?
I started in the theater, so language is hugely important to me. I'll read a script and even if the story is great and the dialogue is bad, forget it. Actors saying bad dialogue -- you look like a bad actor. But at the same time, I've done films where I'm trying to cut every line I've got because I think it's over-explaining or I think it's visually being told better. And then I've done films like "Closer," where the whole film is about delivering the language properly. But of course, in the end, you need both.
BEFORE YOU GO
PHOTO GALLERY
Celebrity News & Photos