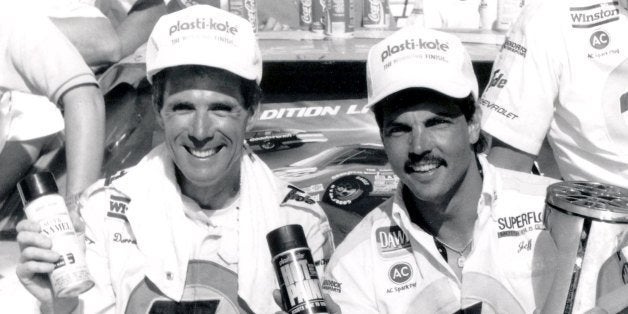 In recent years, the pair has teamed up once again, this time as NASCAR on FOX analysts. After all of these years of working together, it's clear that Hammond and Waltrip are still very much in-sync. Case in point? They'll both be walking their daughters down the aisle on the exact same day, Saturday, May 24. Oddly, they didn't make the connection until just a few weeks ago.
"Hammond didn't tell me and I didn't tell him," Waltrip told FOX Sports. "We sent out invitations and still didn't catch it. He was talking to me about a wedding recently, and I thought he was talking about ours. At some point in time, Hammond said something about a tent, and I said, 'We're not having a tent.' He said, 'I'm going to have a tent,' and I asked, 'What do you need a tent for?' He said, 'For the wedding!' I asked, 'What wedding?'"
It isn't purely coincidental that the two weddings happened to land on the same day. This is one of the few weekends that they were able to get some time off from their analyst jobs because there is no on-track activity Friday and Saturday is a light day on the track for the network.
Waltrip also told FOX Sports that neither of them really paid much attention to the other's wedding invitation so they never made the connection about the dates.
"We're on the road so much," he said. "We weren't thinking about what the other was doing -- we were just trying to get our daughters married and make sure we are there on the right day."
BEFORE YOU GO
PHOTO GALLERY
NASCAR Wives