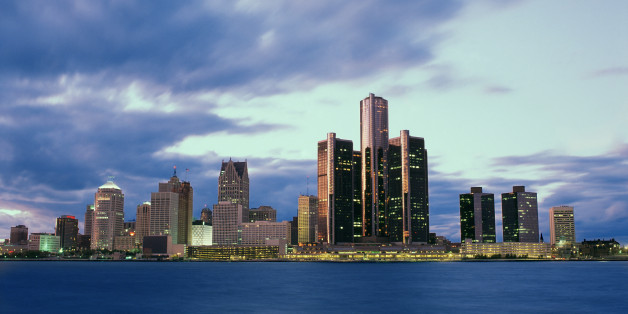 Nearly a third of Detroit pregnancies end in abortion, according to a report from the Detroit News.
The paper reports that in 2012, there were an estimated 18,360 pregnancies in Detroit and 5,693 ended in abortion, a rate of 31 percent.
"We're seeing a picture that looks more like some Third-World country than someplace in the United States," said Dr. Susan Schooley, chairwoman of the Department of Family Medicine at Henry Ford Hospital.
Detroit's abortion rate has climbed in the last decade, despite decreases state and countrywide. The United States' abortion rate in 2011 was the lowest since the procedure was nationally legalized in 1973.
The abortion rate among women age 15 to 44 in Detroit overall -- including women who did not conceive -- is 37.9 per 1,000 women, compared to 27.5 per 1,000 women in 2001. The national abortion rate in 2011 was 17 in 1,000 women.
Poverty, which can limit access to contraception, may have an effect on Detroit's high abortion rate. A study conducted in 2012 at the Washington University School of Medicine in St. Louis, Mo. showed that the rate of unintended pregnancies and abortions decreased dramatically when uninsured, low-income women were given free access to birth control. Detroit's poverty rate in 2012 was estimated at 42 percent, according to MLive.
Poverty is a common thread in problems faced by Detroit's women and children, and may also play a factor in Detroit's high infant mortality rate. Last week, the city announced a new program aimed at providing medical care and support for pregnant women in light of the city's infant mortality rate, which is double the national average and significantly affected by a high preterm birth rate.
State funding for family planning and birth control, however, decreased dramatically over the last several years, according to the Detroit News report. In 2006, $5 million was put toward such programs, but in 2013, funding dropped to $692,300.
"Reproductive health disparities, and health disparities more generally, are endemic in this country and stem from broader, persistent economic and social inequities," Susan Cohen, Acting Vice President for Public Policy at the Guttmacher Institute, which advocates for sexual and reproductive health, said in a previous statement. "We need to bridge these reproductive health gaps by ensuring that all women, regardless of their economic circumstances, have meaningful access to the full spectrum of information and services -- both contraceptive services to reduce levels of unintended pregnancy and abortion services."
Michigan has passed several anti-abortion laws in the last couple years. Earlier this year, a law went into effect that prohibits insurance companies from including abortion insurance in their basic policies. Instead, women who want coverage for abortions must purchase additional riders. In 2012, lawmakers passed legislation that places stronger restrictions on abortion clinics, including requirements that doctors must screen women for coercion and regulating clinics as hospital operating rooms.
BEFORE YOU GO
PHOTO GALLERY
10 Things To Know About Birth Control