The last episode of "Seinfeld" may have aired 16 years ago, but the eponymous star of the Emmy Award-winning sitcom is still said to be raking in the dough thanks to the show.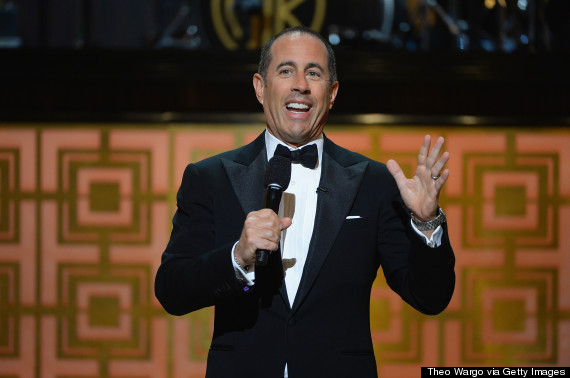 Comedian Jerry Seinfeld speaks onstage at Spike TV's 'Don Rickles: One Night Only' on May 6, 2014 in New York City.
According to Wealth-X, a Singapore-based company that researches the ultra-rich, Jerry Seinfeld raked in at least $400 million last year thanks to syndication deals for "Seinfeld." (Last year, the Independent reported reruns of the show were estimated to have generated some $3 billion since the sitcom went off the air). That, together with more recent projects like 2007's "The Bee Movie," have kept the 60-year-old comedian's coffers amply stocked, Wealth-X said in a media release this week. So stocked, in fact, that the company has dubbed him the richest actor in Hollywood -- and possibly the world.
"With an estimated net worth of US$820 million… Jerry Seinfeld is laughing all the way to the bank," Wealth-X wrote in the release.
Second on the company's "Hollywood and Bollywood Rich List," which compared the estimated net worth of actors and actresses from the U.S. and India, was Shah Rukh Khan (estimated net worth: $600 million), a prolific Bollywood actor. Tom Cruise, Tyler Perry and Johnny Depp also made it into the top five.

BEFORE YOU GO
PHOTO GALLERY
Celebrity News & Photos