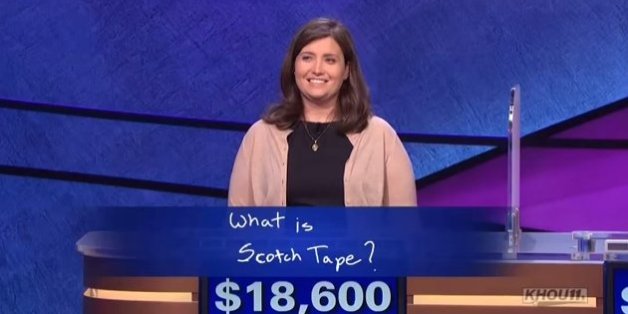 UPDATE: Collins delivered her most dominant performance yet on Friday, adding $30,800 to her winnings for a new total of $314,900. She is now the third winningest non-tournament 'Jeopardy!' champion ever.
ORIGINAL STORY BELOW
Julia Collins has been making history for the past week on "Jeopardy!" But few people seem to have noticed.
Collins, a 31-year-old supply-chain specialist from Kenilworth, Illinois, had won 14 games in a row as of Thursday night, demolishing the record for most games won by a female contestant -- previously seven. She has amassed a total of $284,100, the most money ever won by a woman on the show, and is currently fourth on the all-time list of "Jeopardy! champions. She's averaging a healthy $20,293 per episode.
Yet her remarkable run has received a fraction of the attention accorded to Arthur Chu, the 12-game-winner whose run ended in March.
Collins, who graduated from Wellesley College in 2005 and attended graduate school at MIT, has been profiled by websites affiliated with those institutions ("I've watched the show since I was a little kid, maybe 8 or 9," she told Wellesley's official site), as well as CNN Money and The Miami Herald. But that pales in comparison to the onslaught of media surrounding Chu, who won $297,200, for a per-game average of $24,767.
Gender may factor into the disparity. But Chu was also a divisive champion, both for his manner and style of play. He chose to attack the "Jeopardy!" board with a strategy known as the "Forrest bounce," which involves jumping between categories to look for Daily Doubles. This aggressive yet logical maneuver inspired a raft of commentary, as did Chu's sometimes brusque manner.
Collins also had to contend with a two-week programming gap in the middle of her run, during which "Jeopardy!" aired a special "Battle of the Decades." Chu, however, went three weeks between games during his streak. So perhaps America simply has post-Chu "Jeopardy!" fatigue.
Collins plays a more traditional style of "Jeopardy!," but has been no less dominant for it. Seven of her games have been "runaways," meaning that she was so far ahead by the Final Jeopardy round that she was assured victory. And like Chu, she's accessible. Collins livetweets her games, and frequently responds to questions from Twitter users. (Unlike Chu, she doesn't appear to be the frequent target of insults.)
Since "Jeopardy!" rules were changed to allow contestants to win more than five games in a row, only the legendary Ken Jennings, who won 74 games in 2004, Dave Madden, who won 19 in 2005, and Chu now stand above Collins on the all-time earnings list. Whatever happens next, Collins has already achieved something remarkable.
Clarification: Language has been added to reflect that the records Collins are breaking are for regular-season 'Jeopardy!' games, and don't include tournaments.