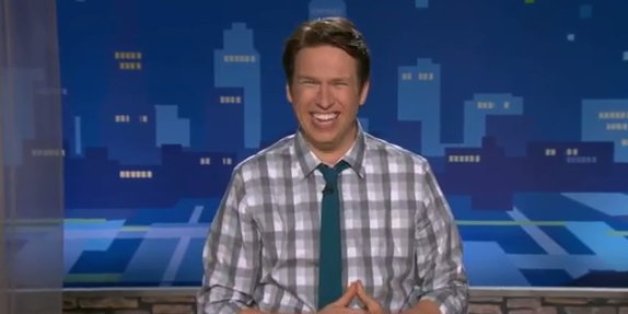 Sad news, Weirdoes.
TBS has announced it's canceling "The Pete Holmes Show" after 80 episodes. The series was originally approved for a seven-week run and was then renewed for 13 more weeks. It will finish off its last episodes and end June 19.
"We recognize Pete as one of the most relevant comedians working today," TBS said in a statement to The Hollywood Reporter. "We loved the show and gave it two chances. We just couldn't draw the audience needed to justify a third round. We hope we'll get to work with him again."
While the loss of Pete's golden retriever face from TV is very sad, we'd like to take this opportunity to send Pete off by highlighting some of the best laughs his series brought us during its brief run.
(WARNING: Some content in these videos might be NSFW.)
Monologues
Pete didn't adhere to a normal late-night monologue structure. Though he featured a nightly monologue, it wasn't necessarily topical and instead was basically six minutes of new standup material.

Check out more monologue videos: Everyone Is Dumb At Something, Enrique Iglesias, Sad Dads and Dive Bars
Interviews
Pete is notorious for having all the best guests that you didn't know you loved. And his style of interviewing is simply a delight.

Check out more guest interviews: Adam Pally, Adam Scott, Ben Schwartz, Patton Oswalt, Lauren Cohan, Bo Burnham, Jenny Slate and Zach Woods
Comedy Sketches
Whether he was firing the X-Men as Professor X, advising the Street Fighter gang in legal choices or being Batman, Pete never failed to deliver a stellar performance alongside some great talents.

Check out more sketches: Men's Wearhouse, Batman vs. Superman, Sherlock Holmes Sucks at Deduction, Ex-Men: Nighcrawler Outtakes, Street Fighter Red Tape: Guile and Lightweight James Bond
Not all is lost. Pete can still be heard on his popular Nerdist Podcast, "You Made It Weird." So let's do our best to think of this not as a "goodbye," but as a "see you next time."