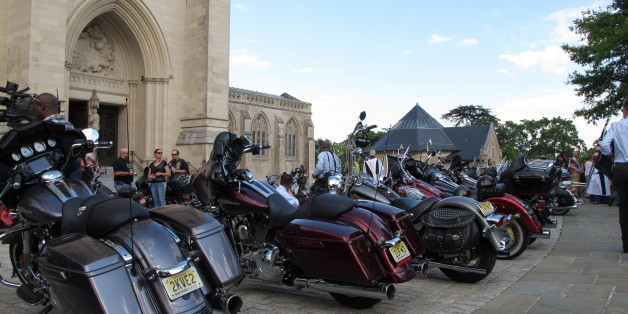 Thousands of motorcyclists descended on Washington, D.C. on Memorial Day weekend for the Rolling Thunder XVII "Ride for Freedom" event to remember veterans listed as prisoners of war (POWs) or missing in action (MIA).
Washington National Cathedral invited Rolling Thunder members to come on Friday for a "Blessing of the Bikes," as part of its developing Veterans Initiative. Members from the Maryland, Virginia, and New Jersey chapters gathered for a brief ceremony at 5:45 pm on Friday, followed by special tours.
A spokesperson for the Cathedral elaborated on the Veterans Initiative in an email to The Huffington Post. "Last year, the Cathedral's governing board named outreach to veterans as a top priority for Cathedral programming," explained Meredith MacKenzie. "Since then, our staff has been planning a five-year programmatic initiative that seeks to recognize and pay tribute to veterans, offer a sacred space for spiritual healing, and to educate the civilian public about the experience of veterans and the challenges they and their families face when returning home from service."
The Memorial Day ride is Rolling Thunder's 27th annual demonstration in support of POW/MIA and veterans' issues.
Rolling Thunder has arrived @WNCathedral for the blessing of the bikes. What a sight! pic.twitter.com/V0syEAOoDB

— The Bishop's Clerk (@TheClerkVA) May 23, 2014
Blessing of the bikes @nbcwashington pic.twitter.com/QFuE1FYV5O

— Adam Tuss (@AdamTuss) May 23, 2014
The 1st Blessing of the Bikes starts at the National Cathedral for #RollingThunder @wusa9 pic.twitter.com/qyaokx7FGc

— Peggy Fox (@PeggyTV) May 23, 2014
Rolling Thunder arriving at @WNCathedral for Blessing of the Bikes in honor of POW/MIA this #MemorialDayWeekend2014 pic.twitter.com/OWhQOvBF23

— Richard M. Weinberg (@richardmosson) May 23, 2014
"Now everyone can see we're not dirt bags!-Charles Webster at the Nat Cathedral for 1st Blessing of the #Bikes @wusa9 pic.twitter.com/McuDxRNHHx

— Peggy Fox (@PeggyTV) May 23, 2014
BEFORE YOU GO
PHOTO GALLERY
Blessing Of Bikes