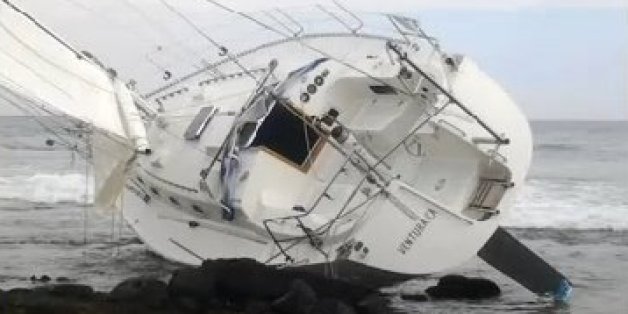 John Berg, a legally blind sailor, completed an impressive 20-day voyage from the shores of Mexico all the way to the waters of Hawaii only to run into a huge letdown when he got there. After dropping off two crew members at Hilo on Hawaii's Big Island, Berg crashed his boat onto the reef while sailing toward the Kona side of the island.
Berg's 40-foot boat, dubbed the Seaquel, entered Hawaiian waters on Sunday, according to Hawaii News Now. His navigation equipment failed and he mistakenly sailed close to shore where rough waves knocked the boat over.
"He wandered into the surf. It was a navigational error," John Dour, a local resident who spoke to Berg a day after the crash, said to news reporters. "The waves picked them up and threw them on the beach."
Dour told Hawaii News Now that Berg and a female crew member had to clip themselves together with a harness after the accident and make their way back to shore in the dark. There was no indication they were injured during the crash.
The Seaquel, where Berg had been reportedly living for the past 14 years, was uninsured. It was equipped with all the latest technology he needed to sail as a blind man, including electronics designed to give vocal prompts.
The boat was left on the beach overnight and found looted the next day. Thieves made away with Berg's valuable equipment, including the boat's steering wheel.
"The guy was completely devastated," Dour said. "You know, he lost his home. Everything."
Since Berg does not have insurance and cannot afford to salvage the boat, Hawaii's Department of Land and Natural Resources, according to the Associated Press, has hired a contractor to remove the vessel from the beach to prevent further damage to the reef.
This comes at an unfortunate time for Berg, as the DLNR has just strengthened its ability to penalize people who intentionally or negligently damage coral and have stiffened the consequences for doing so -- an initiative that took effect just three weeks before the crash.
Hawaii News Now - KGMB and KHNL
BEFORE YOU GO
PHOTO GALLERY
Dangerous Days